New picture book from Joni and Friends helps children see the value and uniqueness in every person
God Made Each and Every Person in His Image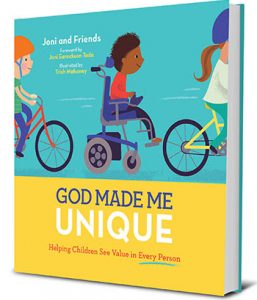 Greensboro, NC – It's natural for children to ask questions when they meet someone who is different from them in one way or another. It's important when those questions come up to make sure they understand that even though God made every person unique, each has a special place in his plan. To help families talk about differences, especially disabilities, Joni and Friends, the ministry of Joni Eareckson Tada, has released God Made Me Unique: Helping Children See Value in Every Person (New Growth Press/August 19, 2019).
"This book was written to help teach children that God creates each unique individual and that disability is sometimes part of his plan, whether as a result of a condition from birth, or an injury or illness," Joni Eareckson Tada writes in the book's foreword. "We want children to understand that every person is made in the image of God and has tremendous value, regardless of their appearance or abilities."
God Made Me Unique is a colorfully illustrated book set in a Sunday school classroom where a new girl, Brie, will be joining the class for the first time. Brie's teacher, Ms. Campbell, takes the time to welcome Brie and explain to the other children why she is wearing headphones. Brie is joined in class by several other children, each unique in their own way, including others who have disabilities or special needs. There is Jamal, who has a wheelchair, and Wyatt, who sometimes needs some help to pay attention.
Through getting to know Brie, the children are guided into a biblical understanding of the uniqueness of each of God's children. Along the way they learn to ask questions and gain an understanding about their new friend. "We want to help eliminate fear and misconceptions about those who have special needs and emphasize the fact that every person deserves to be treated with kindness and respect," Tada shares. "We believe an open dialogue can help children replace harsh words and cold stares with honest questions and empathy."
Told in a charming rhyming style perfect for pre-schoolers, the story also shares how Paul taught in 1 Corinthians 12 that each member of the church works together like the human body and each has a specific part to play. Ms. Campbell also teaches the children about talents and how no act of service is too big or too small.
The back of the book contains a special section specifically for parents and caregivers that will guide them in how to have biblical, loving conversations with children and give additional information and resources to equip them in talking about this important subject.
God Made Me Unique is the latest release in God Made Me series from New Growth Press. Each title in the God Made Me series gives parents the tools to have important, impactful conversations with their children that will grow their understanding of God, themselves, and others. Other titles in the series include God Made All of Me by Justin and Lindsey Holcomb, God Made Me AND Youby Shai Linne and God Made Boys and Girls by Marty Machowski.
God Made Me Unique: Helping Children See Value in Every Person
by Joni and Friends
August 19, 2019 / Retail Price: $15.99
Print ISBN 978-1-948130-70-7
Religion / Christian Living / Family & Relationships
Joni and Friends is an organization that accelerates Christian outreach in the disability community. Founded in 1979, their mission is to communicate the gospel and equip Christ-honoring churches worldwide to evangelize and disciple people affected by disability.  The organization authors numerous books including the new releases The Gospel in Hard Times and The Gospel in Hard Times for Students (study guides about suffering in which participants are guided to look to Jesus to understand who God is in the midst of their own suffering and the suffering of others), God Made Me Unique (a children's book helping parents and caregivers teach children that God creates every person in the image of God), and a series of minibooks providing personal insight & encouragement for tough circumstances.  You can learn more about Joni and Friends at www.joniandfriends.org.
New Growth Press publishes gospel-centered Christian books, small group, and children's Bible resources for discipleship, biblical counseling, and missional ministry. For more information about other releases from New Growth Press, visit www.newgrowthpress.com.
Contact:  Audra Jennings – audra@newgrowthpress.com – 903-874-8363