New interactive digital textbook platform from Zondervan Academic: Enhanced Editions
Grand Rapids, Mich, May 2020—Zondervan Academic, a division of HarperCollins Christian Publishing, announced today a new digital publishing initiative and ebook format: Enhanced Editions (EnhancedEditions.com). Developed in partnership with BibleMesh, these groundbreaking resources offer instructors and students a host of new ways to engage with textbooks in the world of Christian higher education—at the same price as the traditional print versions of each text.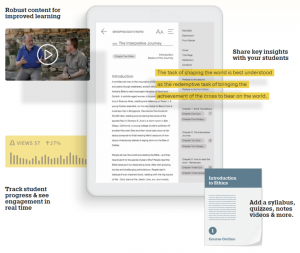 "Our goal is to publish the best textbooks in Christian academia, and now we're making the best educational tools for teaching from those texts," says Zondervan Academic SVP and Publisher, Stan Gundry, PhD. "The Enhanced Editions platform finally gives instructors the tools they need to customize the textbook to fit the class, instead of the other way around."
Enhanced Editions launches with a library of best-selling textbooks used by Christian higher education programs around the world. These digitally upgraded textbooks include video lectures from the authors, plus premade quizzes, reflection questions, and review items (using the Cerego learning engine). Instructors can add highlights, notes, discussion prompts, and even their own video and audio to the textbooks, all of which appear in the version their students are using. When using Enhanced Editions, instructors also have access to a dashboard, allowing them to track and analyze student engagement and performance.
Students will benefit from the Enhanced Editions as well. In addition to accessing in-textbook lectures from the authors, students can add and edit their own highlights and notes. Students are also given a dashboard where they can track their progress.
"More and more we see colleges and universities having to navigate the realities of distance and on-line learning. The materials they use need to keep pace with these changing circumstances. We created Enhanced Editions as a way to aid students and professors—no matter their classroom setting," says Zondervan Academic Marketing Director, Joshua Kessler. "Enhanced Editions will help students get the most out of every class they take, leading to a better short-term study experience, and better long-term retention."
Learn more about Enhanced Editions by visiting EnhancedEditions.com.
Zondervan is a world leading Bible publisher and provider of Christian communications.  Zondervan, part of HarperCollins Christian Publishing, Inc., delivers transformational Christian experiences through its bestselling Bibles, books, curriculum, academic resources and digital products. The Company's products are sold worldwide and translated into nearly 200 languages. Zondervan offices are located in Grand Rapids, Mich. For additional information, please visit www.zondervan.com.
Contact:  Amy Bigler, Senior Public Relations Manager, amy.bigler@harpercollins.com 616.698.3514