New industry Sales Award will recognize sales of more
than 250,000
The ECPA Bronze Award will be added to the industry's Gold, Platinum, Diamond suite of awards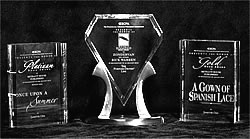 The ECPA Recognition Committee has voted to add a new level to the ECPA Sales Achievement Awards, providing opportunity for ECPA member titles to be recognized at a milestone of more than 250,000 sold.
The Bronze Award for 250,000 in sales will abide by the same rules as the Gold (500,000), Platinum (1 million), and Diamond (10 million) award levels, with the addition that the Bronze Award will only be eligible for titles published January 2000 or later.
WHAT SALES COUNT?
ECPA Bronze, Gold, Platinum, and Diamond Sales Awards include all formats of a title (print, digital, audio, e-book, etc.) as long as all content is essentially the same (up to 25% updated material). Apps can be included if a book's full content is present. Included are the following sales:
All traditional brick and mortar bookstores (independent, chain) and wholesale distributor sales
All online sales (publisher's, Amazon, CBD, and others)
All "special market" sales (premiums, homeschool, organizations, businesses, etc.)
All "conference sales" at which the publisher exhibits and retails books
All college, university and other academic institutions
Publisher sales to all export/international markets, including verifiable sub-rights sales
All mass merchant "jobber" sales
Excluded are those sales with deep discounts or no money exchanged, including free downloads, deep discounts and giveaways.
COUNTING BIBLE SALES ACROSS TRANSLATIONS
In addition, the Recognition committee has updated the criteria for counting Bible sales. Sales may now be combined across two or more translations (versions) of the same Study Bible.
The ECPA Sales Achievement Awards are recognized each year at the industry's Awards Celebration and featured on ChristianBookExpo.com and ECPASalesAwards.com.  If a sales award recipient title is also on the Bestsellers list, then an icon denotes its special status.
For more information, visit the ECPA website.