New Hope relaunches Christmas classic
Experience the hope, peace, and joy of the Christmas season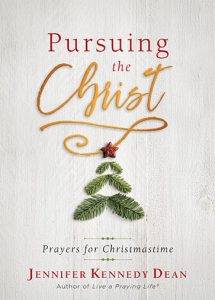 BIRMINGHAM: New Hope Publishers announces the repackage and relaunch of the Christmastime classic, Pursuing the Christ, by best-selling author Jennifer Kennedy Dean. (New Hope/October 1, 2018/ ISBN: 978-1-56309-085-1/$12.99). Already a beloved holiday read, Pursuing the Christ, a thirty-one-day devotional and prayer guide, will help you step away from the hustle and bustle of the holiday season and experience the hope, peace, and joy Christ intended for this season. Each short daily reading is filled with profound and thought-provoking insights on familiar Christmas verses and some possibly not-so-familiar Messianic passages to help you celebrate the precious gift of Christmas—Jesus Christ—in new and richer ways.
Learn more about Jennifer and Pursuing the Christ. 
Advance Praise
"Jennifer Kennedy Dean has provided an elegant, yet down-to-earth resource to prepare your heart for the coming of the Christ child this Advent season. This thought-provoking invitation to prayer has had a profound and holy effect on my approach to the moment when love came down and the Son of God came to dwell among us." —Cynthia Ruchti, author of twenty-three books, including An Endless Christmas and Restoring Christmas
"By far my favorite Christmas devotional of all time. Jennifer Kennedy Dean has created an evocative, spiritually rich, intellectually rigorous, emotionally satisfying read. Every entry is unique and engaging, drawing the reader closer to Jesus." —Tessa Afshar, award-winning author of Land of Silence, Pearl in the Sand, and Harvest of Gold
"Jennifer Kennedy Dean gifts readers with winsome prose and deeply satisfying reminders of the audacious Gift of Jesus Christ. Succinct devotions wrapped in sound teaching underwriting the meaning of Christmas and the hope He brings to a desperate world." —Julie Barnhill, author, speaker
About the Author
Jennifer Kennedy Dean is executive director of The Praying Life Foundation, a bestselling author, and a respected speaker. She is the author of numerous books, studies, and magazine articles specializing in prayer and spiritual growth.  Her book Heart's Cry has been named National Day of Prayer's recommended resource. Her bestselling Bible study, Live a Praying Life®, has been called a flagship work on prayer. Widely recognized as an unusually gifted communicator of the deep truths of God's Word, Jennifer speaks all over the world, calling God's people to discover the difference between "a prayer life" and "a praying life." Jennifer is the author of such books as Clothed with Power, Set Apart, Power in the Blood of Christ, Power in the Name of Jesus, Altar'd, and Secrets Jesus Shared. She is a board member for Advanced Writers and Speakers Association, a member of America's National Prayer Committee, a member of National Professional Women Association, and national prayer director and board member for Christian Women in Media.
Learn more about Jennifer Kennedy Dean. 
To request a review copy of Pursuing the Christ, to schedule an interview with Jennifer, or for more information, please contact Meredith Dunn, Meredith@NewHopePublishers.com.