New Hope Publishers releases resource to
give spiritual refreshment for caregivers
Find spiritual refreshment in the midst of your caregiving journey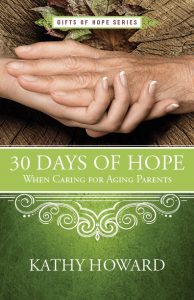 BIRMINGHAM: New Hope Publishers announces the release of 30 Days of Hope When Caring for Aging Parents by author Kathy Howard (New Hope/June 4, 2018/ ISBN: 978-1-62591-543-6/$9.99). Data shows that approximately 43.5 million caregivers have provided unpaid care to an adult or child in the last twelve months. [National Alliance for Caregiving and AARP.] With an ever increasing numbers of adults becoming caregivers to their aging parents, this devotional is a timely and much needed encouragement. Many caregivers find themselves burned out—physically, emotionally, and spiritually. Kathy shares that she has been most surprised by the spiritual impact her caregiving has had on her life.
In this much needed thirty-day devotional, author and fellow caregiver Kathy Howard offers the encouragement needed as you strive to care for your parents in a way that pleases God and shows them honor and respect while maintaining their dignity. Through Scripture passages, prayer prompts, and Kathy's personal stories, be strengthened in the knowledge that the giver of all wisdom will empower you in the daily moments when you are caught between being your parents' child and their caregiver.
Learn more about Kathy Howard and 30 Days of Hope When Caring for Aging Parents at
www.kathyhoward.org/blog/.
Advance Praise
"Kathy Howard's 30 Days of Hope When Caring for Aging Parents is a heartening companion for anyone from early to later stages of caregiving for parents. With tenderness, grace, and honesty, she comes alongside the caregiver with understanding and insight in these daily devotions. The questions for reflection are both practical and poignant."
—Cynthia Ruchti, author of more than twenty books, including As My Parents Age

"Finally! A book I can recommend for caregivers and the book I wish I had while caregiving for my mother-in-law! 30 Days of Hope When Caring for Aging Parents by Kathy Howard is a unique gift that instills hope, reminds caregivers that they're not alone, and inspires joy in the trenches of the caregiving journey."
— Stephanie Shott, national Bible teacher, author, and president of The MOM Initiative
About the Author
Kathy Howard encourages believers to live an unshakeable faith for life by standing firm on our rock-solid God. The author of nearly ten books and a former "cultural Christian," Kathy has a master's degree in Christian education. Kathy and her husband have three married children and four grandsons. For more information and free discipleship tools and leader helps, visit www.kathyhoward.org.  Keep up with Kathy's speaking schedule, read her blog, and more by visiting
www.kathyhoward.org/blog/
To request a review copy of 30 Days of Hope When Caring for Aging Parents, to schedule an interview with Kathy, or for more information, please contact Meredith Dunn, Meredith@NewHopePublishers.com.