New Growth Press launches new series for young children
Helping Children Learn to Use Their Words Wisely
New series from Ginger Hubbard and Al Roland launches with stories to help young children break the bad habits of whining and lying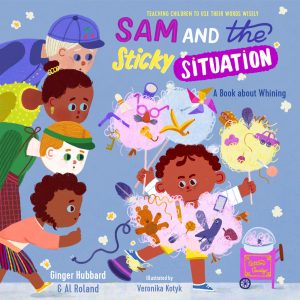 Greensboro, NC—When children tell lies or whine to get what they want, the problem isn't just the words that they use or how they say it. Instead, when a child acts out verbally, it's important to get to the heart of the matter. Rather than focusing on behavior modification, the new Teaching Children to Use Their Words Wisely series written by Ginger Hubbard and Al Roland places a strong emphasis on the why behind the behavior.
"As a conference speaker, I have listened to parents all over the country express heartache over their inability to help their children get a handle on tongue-related offences," Hubbard shares. "So many children today are in bondage to enslaving addictions of the tongue which stem from enslaving sins of the heart. Parents are looking for ways to uproot these issues, address them from a biblical perspective, and point their children to Jesus—who is our only hope for change. I've written parenting books to help parents do that, but I also wanted to write children's books to help them grasp these same concepts in fun ways."
The bright, colorful illustrations by Veronika Kotyk will draw children ages 4–7 into the books, while the engaging, fun stories will not only entertain young readers but will also help them to think about the effects of their words. At the end of each book of the Teaching Children to Use Their Words Wisely series there is a resource page for parents and caregivers that supplies biblical content and practical strategies for the problem at hand.
The first release in the series is Sam and the Sticky Situation: A Book About Whining. Sam has figured out a way to get what he wants when he wants it—he whines. In fact, it works so well that he's started whining more and more to get his way. Not only does Sam's mother give into his whining very quickly—he learned how to whine from her. But Sam finds himself in quite the sticky situation when his whining leads him to being covered with cotton candy and stuck on the top of a Ferris wheel!
All parents want their children to whine less, but few notice that they might have a problem with whining too. The authors help families think about whining with a silly story that will not only make them laugh but will also encourage them to see how whining stems from a heart that wants things more than God. The parent resource page at the end of the book presents a biblical framework and practical suggestions to help children understand why they whine and how to learn a better way of expressing themselves.
Releasing simultaneously is Chloe and the Closet of Secrets: A Book About Lying. Chloe has a sneaky habit of making up stories. She thinks it's no big deal, but one day crazy little fluffs appear every time she tells a lie. Chloe starts stuffing the fluffs in her closet, but soon it's almost ready to burst. Not only that, she realizes that her lies are sinful and are hurting her relationships. But after her father confesses his own lie and asks God for forgiveness, Chloe gains the courage to let out all of her secrets.
Most children (and adults too) struggle with being completely truthful. Even though we know it's wrong to not tell the whole truth, it's still hard to help a child understand why. Hubbard and Roland give parents sound recommendations for helping their children (and themselves) learn to speak the truth. The parent section in the back offers advice to help children understand what a lie is, some reasons that they lie, and the power of confession and forgiveness.
"Our sin does not begin with our mouths; it begins with our hearts. 'The mouth speaks what the heart is full of' (Matthew 12:34). Our goal is to help readers recognize the sin in their hearts, desire God above all things, pursue Christlike character, and turn to Jesus for help," says Roland.
Chap Bettis, author of The Disciple-Making Parent, writes, "While character training in children cannot regenerate the heart, it does shape it. As a result, good parenting will both speak the gospel and shape the will. I am delighted to see this new series of children's books by Ginger Hubbard and Al Roland does both. Parents and grandparents will find these a fun and engaging help as they seek to disciple the hearts of their children."
Ginger Hubbard speaks at women's events, parenting conferences, and homeschool conventions across the country, and cohosts the Parenting with Ginger Hubbard podcast. Engaging every audience with charisma and warmth, Hubbard's unforgettable and life changing messages enlighten and inspire women from coast to coast. She has been interviewed on national and international television and radio programs, including Focus on the Family, Revive Our Hearts, and Family Life Today. Hubbard is the bestselling author of Don't Make Me Count to Three, Wise Words for Moms, and I Can't Believe You Just Said That and the coauthor of the Teaching Children to Use Their Words Wisely series. Ginger and her husband, Ronnie, have four adult children and live in Opelika, Alabama, where they enjoy working together from home. Learn more and listen to her podcast at www.GingerHubbard.com. She can also be found on Facebook (@OfficialGingerHubbard) and Instagram (@ginger.hubbard).
Al Roland has worked as a software developer for over thirty-six years. He enjoys spending time with his family, long road trips, mountain biking, adventure, and serving several ministries including RYFO which provides Christian host homes for traveling musicians. He is the coauthor of the Teaching Children to Use Their Words Wisely series. Al and his wife, Jennifer, live in Opelika, Alabama where they raised and homeschooled their four children.
About the Illustrator:  Veronika Kotyk is a Ukrainian illustrator who is passionate about creating quirky characters and bright worlds for children's books. After receiving a fine art degree, she explored foreign cultures and various forms of art. Her awards include the 2017 stArt Award and a gold medal at Mom's Choice Awards. She is the illustrator for the Teaching Children to Use Their Words Wisely series.
Teaching Children to Use Their Words Wisely Series
Sam and the Sticky Situation: A Book About Whining Print ISBN: 978-1-64507-200-3
Chloe and the Closet of Secrets: A Book About Lying Print ISBN: 978-1-64507-202-7
by Ginger Hubbard and Al Roland, Illustrated by Veronika Kotyk
February 21, 2022 / Retail Price: $16.99
RELIGION / Christian Ministry / Children