New book release from Focus on the Family marks relaunch of Last Chance Detectives Series
Quest for the King's Crown Marks Relaunch of Last Chance Detectives Series, Middle-Grade Suspense Fiction from Focus on the Family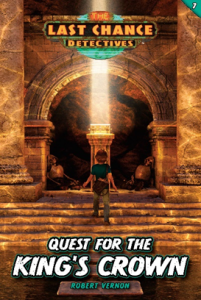 Carol Stream, Ill. (July 12, 2022) — On November 8, 2022, in alliance with Tyndale House Publishers, Focus on the Family will release Quest for the King's Crown (978-1-64607-049-7), book seven of Robert Vernon's Last Chance Detectives series for middle-grade readers (ages 8-12). Quest for the King's Crown is one of three new additions to the original Last Chance Detectives series, which was first published in the mid-90s. Through engaging, suspenseful mystery stories, the series offers valuable lessons about friendship, forgiveness, overcoming fear, trusting God, and doing what is right.
In each book of the Last Chance Detectives series, young readers follow along with Mike, Winnie, Ben, and Spence—four friends who team up to solve exciting mysteries and learn important life lessons in the process. The original stories from the series are also available as DVD videos and audiobooks.
Robert Vernon is the creator of the Last Chance Detectives book series and was instrumental in writing and producing the accompanying video and audio series. As a founding member of Focus on the Family's film department, Robert also wrote, produced, and directed several of the original Adventures in Odyssey video episodes.
For more information or for media inquiries, please contact Keilah Jude at keilahjude@tyndale.com.
Quest for the King's Crown by Robert Vernon
Last Chance Detectives #7
Softcover ISBN: 978-1-64607-049-7 | $9.99 | November 8, 2022
https://store.focusonthefamily.com/quest-for-the-king-s-crown/
Last Chance Detectives Seven-Book Set
Softcover ISBN: 978-1-64607-054-1 | $69.93 | November 8, 2022
https://store.focusonthefamily.com/last-chance-detectives-seven-book-set/
Focus on the Family, which reaches about 38 million people in 120 countries, is a global faith-based ministry that helps families thrive. Tyndale House Publishers is pleased to partner with Focus on the Family to help provide trusted resources for strengthening believers in their faith and sharing the gospel; building resilient marriages that reflect God's design; equipping parents to raise their children with a thriving faith; advocating for the preborn, orphaned and life at every stage; and engaging the culture through a biblical worldview. Visit Focus at FocusontheFamily.com or on Facebook and Twitter.
Since its founding in 1962, Tyndale House Publishers has been a voice to trust for generations of readers. Today, Tyndale is one of the largest independent Christian publishers in the world. Tyndale's mission is to make the Bible accessible to as many people as possible in language that they can relate and respond to. Tyndale publishes the Holy Bible, New Living Translation (NLT) and offers nonfiction books that equip readers with Christ-centered insight, counsel, and life-improving stories. In addition, Tyndale publishes fiction from fresh new voices and celebrated authors alike, capturing the imagination of millions of readers. With a deep understanding of the importance of nurturing future generations, Tyndale also publishes children's products that make God's Word and wisdom come alive. Tyndale's independent status allows it to follow its founding model, giving a majority of annual revenue—more than $110 million throughout its history—to charitable missions. With every book purchased, Tyndale readers help meet the physical and spiritual needs of people around the world. Tyndale and Tyndale's quill logo are registered trademarks of Tyndale House Ministries.