New book helps young men navigate life and the challenges of growing up
Boy moms Victoria Duerstock and Bethany Jett offer encouragement, life lessons and inspirational anecdotes to equip young men for success in Navigating Minefields
"This book is the blueprint that can impact the social, moral and ethical well-being of young men as a whole. Through this book the young men will ultimately build their character, their self-worth and their overall external relationships with the world and society."
– Antwan Houser, Pastor, Author, Educator, Community and Youth Activist, Public Speaker and Youth Mentor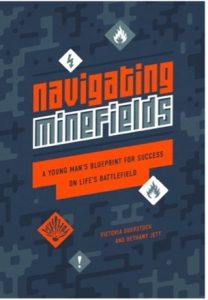 NASHVILLE, Tenn., October 2021 – It's not easy growing up in today's culture. In addition to the regular challenges and pressures of growing up and learning how to navigate life, career and move in into adulthood successfully; our children are also facing numerous epidemics including loneliness, mental health struggles, pornography, and addiction.
In their new book, Navigating Minefields: A Young Man's Blueprint for Success on Life's Battlefield (October 11, 2021), Victoria Duerstock and Bethany Jett use their experience as boy moms to help young men of all ages and stages of life find their God-given identity and equip them with tools necessary to fight life's battles.
"From anger to laziness, dating to sex, work ethic and diligence, we cover a wide berth of subjects that we as parents long for our sons to listen and understand," says Victoria Duerstock. "Our goal is to share what we've learned with other families and that resource will equip and inspire young men at this pivotal time in their lives."
Duerstock and Jett, who have both raised sons, share a wealth of practical life lessons that will encourage young men crossing over into the world of adulthood. Written in a format boys will find engaging and easy to read, Navigating Minefields is filled with inspirational thoughts, quotes and applicable life lessons that will make the perfect gift for any young man.
Duerstock and Jett are available for interviews and can speak to:
The mother's heart: how to navigate healthy relationships with your sons
4 keys to helping young men control their aggression
The importance of teaching your child to apologize
The 3 villains of leadership for men
Seasoned advice for navigating dating relationships in a digital world
5 practical ways to deal with temptation and lust
Tips for understanding time management and staying focused on goals
"Navigating Minefields is all of the life advice you want your sons to have, but kids don't always listen to parents the first…or second…or fiftieth time," says Bethany Jett. "We want to come in and layer this message onto the wisdom parents have already bestowed. Sometimes having another voice helps things 'click'."
About the Authors:
Victoria Duerstock is a multi-passionate creative and entrepreneur fueled mostly by coffee who pursues her dreams with verve and intensity. Wife and mom of three, Victoria divides and conquers the never-ending to-do list while working to maintain her sanity and pleasant demeanor. Her writing journey plunged her deep in the social media landscape and she enjoys sharing her tips and tricks for growth and engagement with others. Recipient of the 2020 Selah Nonfiction Book of the Year, Duerstock has authored six titles, with more on the way. She is the founder and president of End Game Press, a traditional publishing house where ordinary people accomplish extraordinary things. Learn more at www.victoriaduerstock.com.
Bethany Jett is an award-winning author and award-winning ghostwriter, along with co-owning two companies in the writing and publishing realm: Serious Writer, Inc and Platinum Literary Services. She is a proud military spouse and homeschool momma-of-boys who is determined to keep her priorities in line: God, Family, Career, which is often an un-balanced juggling act of extremes on her quest to #LiveBrilliant. Bethany speaks across the country at conferences, retreats, moms' groups, youth groups, women's events, and writer's conferences and would love to be your next keynote presenter or workshop leader. Connect with her at www.bethanyjett.com.
About End Game Press
Launched by award-winning author Victoria Duerstock in 2020, End Game Press is a traditional publishing house where ordinary people accomplish extraordinary things. End Game Press puts authors first, educating them on the entirety of the publishing process and providing them with the needed training to be successful. With a goal to create beauty and cultivate community, End Game Press publishes fiction, nonfiction, and children's titles into both general and Christian markets. Learn more at www.endgamepress.com.
Media Contact: Shanon Stowe, shanon@iconmediagroup.com