New book from award-winning author Harold L. Senkbeil encourages church leaders undergoing crisis
Lexham Press Offers Free Downloads of "Christ and Calamity: Grace and Gratitude in the Darkest Valley"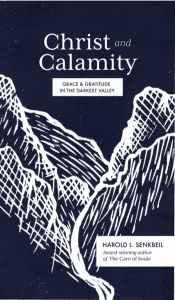 BELLINGHAM, Wash., June 3, 2020 – Lexham Press has partnered with Harold L. Senkbeil, reverend and author of the best-selling and award-winning book "The Care of Souls," to release a new and timely resource, "Christ and Calamity: Grace and Gratitude in the Darkest Valley." The book, which offers biblical wisdom and encouragement for any type of crisis, including the current COVID-19 pandemic, will be freely available for digital download on June 3 via Lexham Press, a publishing imprint of Faithlife.
Drawing from his four decades of pastoral experience, in "Christ in Calamity," Senkbeil reminds readers who may be grappling with suffering and uncertainty of God's constant and faithful grace to us.
"We're living through a global calamity, but we all live through our own small calamities," writes Senkbeil in "Christ in Calamity." "There are many things about the ways of God we cannot understand. However, we do know this much: we have a God who is at his best when times are at their worst."
Senkbeil is author of numerous books including Lexham Press' "The Care of Souls," which is a 2020 ECPA Christian Book Award Winner for Ministry Resources, 2020 Christianity Today Book Award Winner for Church/Pastoral Leadership and 2019 TGC Ministry Book of the Year Winner. Senkbeil's credible reputation in pastoral work of walking alongside those dealing with personal calamities, upheaval and times of grief has inspired church leaders around the world.
"Calamities come in many different sizes, and God addresses them all in his word and by his Spirit," said Senkbeil. "Even when we don't see or feel it, God is always faithful."
While Lexham recognizes "Christ and Calamity" is relevant and useful during the current COVID-19 season, the book can also serve as a long-term source of encouragement for the people of Christ.
"This is a book to read and to read again whenever we need it, a book to give away to people who are hurting. This book will be a classic," said Gene Edward Veith, provost emeritus of Patrick Henry College and author of "The Spirituality of the Cross."
To learn more about the book, visit lexhampress.com/christ-and-calamity.
About Lexham Press:  Lexham Press seeks to increase biblical literacy, thoughtful Christian reflection, and faithful action around the world by publishing a range of Bible study materials, scholarly works, and pastoral resources. For more information, visit https://lexhampress.com/.
Media Contact:  Heidi McDow, 972-267-1111  heidi@alarryross.com