New Bible traces God's perfect promises
for toddlers and preschoolers
Gospel-Centered Stories for Young Children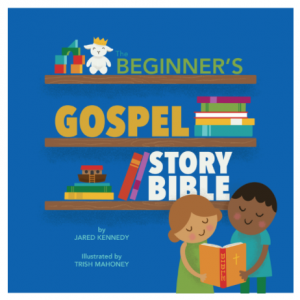 Seattle: In today's world where the word promise doesn't hold the value that it used to, we still encourage our children early on to learn what a promise is, and more importantly, what it means to keep one. While all promises have value, the promises God makes to his people are more valuable than anyone could ever think of or imagine-and our God always keeps his promises.
In The Beginner's Gospel Story Bible (New Growth Press/ November 13, 2017/ ISBN 9781945270048/ $29.99), Jared Kennedy traces the perfect promises of God through fifty-two Old and New Testament stories, retelling them in simple and compelling ways with toddlers and preschoolers in mind. Each gospel-centered story highlights God's tale of redemption through Jesus and the unexpected and surprising ways that God's grace and mercy are revealed throughout the Bible.
"While there are a number of preschool and children's story Bibles from a gospel-centered perspective, there has been very little written in recent years for toddlers," says Kennedy. "My prayer is that our youngest children will come to know that God has spoken his promises for them, that he keeps his promises, and that the way he keeps them is both surprising and life changing."
Each of the fifty-two stories is accompanied by brightly colored illustrations by Trish Mahoney that both highlight the story and add fun teaching elements of counting, opposites, patterns, and object recognition to keep even the youngest child's attention.
The stories also end with a question that parents and caregivers can use to further reinforce the message. Parents are encouraged to read the story one chapter at a time to their children-or have their children read it to them!-and by choosing to read one story per week, families can create a one-year Bible curriculum.
Kennedy, who leads the children's ministry creative team as Pastor of Families at Sojourn Community Church—Midtown in Louisville, Kentucky, designed The Beginner's Gospel Story Bible to hold even a toddler's attention, so they can come to know God's promises are especially for them, and God always keeps his promises.
"Jared Kennedy has created a spectacular resource to help us teach the Bible to our youngest children," says Marty Machowski, a pastor and author of The Ology, The Gospel Story Bible, and other books and curriculum for the church and family. "Though the language is simple enough for toddlers, the gospel truth it carries can and will transform lives. The illustrations compliment the story, creating a colorful journey for children as they discover the promises of God and how they are fulfilled in Jesus Christ. I will be placing a copy of this book in all our children's ministry classrooms and recommending that every family in our church with small children add it to their bookshelf."
Learn more and download a sample by visiting www.newgrowthpress.com.  Readers can also keep up with New Growth Press via Facebook (@NPGBooks), Instagram(@NewGrowthPress), and Twitter (@NewGrowthPress).
About the Author

Jared Kennedy, MDiv, ThM, is the husband to Megan and the father of three girls—Rachael, Lucy, and Elisabeth. He serves as Pastor of Families at Sojourn Community Church—Midtown in Louisville, KY and as children's ministry strategist for Sojourn Network. He blogs regularly at 
gospelcenteredfamily.com
.
To request a review copy of The Beginner's Gospel Story Bible, to schedule an interview with Jared Kennedy or for more information, please contact Audra Jennings, audra@litfusegroup.com.