NavPress to release updated and revised version
of God's Design for Sex series
To address today's challenges surrounding sexuality, Stan and Brenna Jones add new content to their trusted family resource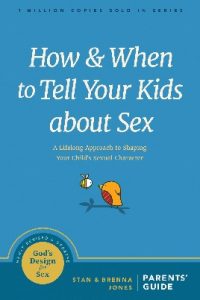 Carol Stream, Ill. (June 5, 2019)—NavPress announces updated and revised editions of the entire God's Design for Sex series, which includes:
How and When to Tell Your Kids about Sex, a comprehensive guidebook for parents
The Story of Me, for ages 3–5
Before I was Born, for ages 5–8
What's the Big Deal?, for ages 8–12
Facing the Facts, for ages 12–16
With over one million copies sold in the series, God's Design for Sex has helped countless families establish a Christian understanding of sex and sexuality. The principal book in the series, How and When to Tell Your Kids about Sex, won the EPCA Medallion of Excellence Christian Book Award. In this updated version of the series, Stan and Brenna Jones tackle today's pressing issues surrounding sexuality and technology with new chapters on pornography, same-sex marriage, gender identity confusion, and more.
Jamie Ivey, best-selling author of If You Only Knew and host of The Happy Hour with Jamie Ivey podcast, said of the God's Design for Sex series: "Talking with your kids about sex sometimes feels like the hardest thing to do in the world, but these books have helped discussions happen in my household for over ten years now. I've also been recommending these books to listeners of my podcast for years and years. These books will help you guide a conversation between you and your child that glorifies God and his desire for our sexuality."
Stan, a clinical psychologist, and his wife, Brenna, wrote the original versions of their books on sex education while their three children were young. Stan served as provost and professor of psychology at Wheaton College for many years. Earlier, he led in establishing Wheaton's PsyD program in Clinical Psychology. Brenna serves in a professional ministry of discipleship and spiritual counsel for women. Carolyn Nystrom, author of over 80 children's books, wrote Before I Was Born.
The God's Design for Sex Series, by Stan and Brenna Jones:
How and When to Tell Your Kids about Sex | 978-1-63146-944-2 | $19.99
The Story of Me | 978-1-64158-133-2 | $10.99
Before I Was Born | 978-1-64158-145-5 | $10.99
What's the Big Deal | 978-1-63146-952-7 | $14.99
Facing the Facts | 978-1-63146-948-0 | $15.99
Softcovers | August 2019 | NavPress.com
NavPress acts as the publishing arm of The Navigators, whose mission is "To know Christ and to make Him known." NavPress serves to advance the calling of The Navigators by publishing life-changing products that are biblically rooted, culturally relevant, and highly practical. Challenging people to thrive in their journey with Jesus Christ, NavPress produces resources that will edify, instruct, and inspire disciples to grow in their faith and make disciples of others.
Tyndale House Publishers, founded in 1962, is the world's largest privately held Christian publisher of books, Bibles, and digital media. Tyndale has published many New York Times bestsellers. The largest portion of its profit goes to the nonprofit Tyndale House Foundation, which makes grants to help meet the physical and spiritual needs of people around the world. Tyndale was founded to publish Living Letters, which later comprised part of The Living Bible, a contemporary paraphrase of the Bible that became a global publishing phenomenon. Tyndale now publishes the Holy Bible, New Living Translation (NLT), the translation of choice for millions of people.