NavPress to release 60-Day devotional journey through the Bible from writings of Eugene Peterson
Symphony of Salvation: A 60-Day Devotional Journey through the Books of the Bible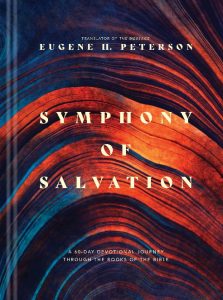 Carol Stream, Ill. (October 1, 2021)—NavPress, in alliance with Tyndale House Publishers, will release Symphony of Salvation, a new devotional resource crafted from writings of the late Eugene H. Peterson, on October 19, 2021.
Rendered beautifully in full color, Symphony of Salvation guides readers through every book of the Bible, giving insight into the sights, sounds, personalities, and controversies of an ancient world. Peterson's distinct poetic tone and wisdom will help readers grow in their appreciation of God's overarching story and how that story speaks into our everyday lives.
Symphony of Salvation can be used as a 60-day devotional or an accessible Bible reference resource. Each entry is Peterson's thoughtful reflection on a particular book of the Bible as a whole, complete with "A Verse to Remember" Scripture callouts.
Eugene H. Peterson was a pastor for nearly thirty years, as well as a theologian and scholar of biblical languages. The author of more than thirty books, he is best known for The Message, his translation of the Bible into contemporary, poetic language. His ministry as a pastor and his writings on theology and spirituality have shaped generations of Christians.
Symphony of Salvation by Eugene H. Peterson
ISBN: 978-1-64158-405-0
Hardcover: $19.99
October 2021
NavPress.com 
Since its founding in 1962, Tyndale House Publishers has been a voice to trust for generations of readers. Today, Tyndale is one of the largest independent Christian publishers in the world. Tyndale's mission is to make the Bible accessible to as many people as possible in language that they can relate and respond to. Tyndale publishes the Holy Bible, New Living Translation (NLT) and offers nonfiction books that equip readers with Christ-centered insight, counsel, and life-improving stories. In addition, Tyndale publishes fiction from fresh new voices and celebrated authors alike, capturing the imagination of millions of readers. With a deep understanding of the importance of nurturing future generations, Tyndale also publishes children's products that make God's Word and wisdom come alive. Tyndale's independent status allows it to follow its founding model, giving a majority of annual revenue—more than $110 million throughout its history—to charitable missions. With every book purchased, Tyndale readers help meet the physical and spiritual needs of people around the world.
The NavPress mission is to advance the calling of The Navigators by bringing biblically rooted, culturally relevant, and highly practical products to people who want to know and love Christ more deeply. Through The Message Bible and other insightful resources, NavPress seeks to bring positive spiritual movement to peoples' lives. In January 2014, NavPress entered into an alliance with Tyndale House Publishers to strengthen and better position NavPress and its rich content for the future. NavPress provides books and other content that bring spiritual impact, life transformation, and help lead in the mission of making disciples.