NavPress to release 20-Pack editions of "The Message of Christmas" and "The Message of Easter" by Eugene Peterson
Carol Stream, IL. (July 12, 2022) — On September 20, 2022, NavPress (@navpress) will release The Message of Christmas, a pocket-size booklet that shares the biblical story of Christmas in the contemporary and engaging language of Eugene H. Peterson's The Message Bible. A companion product, The Message of Easter, will release on January 10, 2023. Available individually and in packs of twenty for bulk ordering, these booklets are ideal for personal and church ministry outreach during the Christmas and Easter seasons.
The Message of Christmas and The Message of Easter include selected passages of Scripture to highlight these foundational narratives of the Christian faith. Additionally, both booklets succinctly present the gospel in a section titled "How We Can Know God." Written in accessible language, these booklets are intended as a resource to help Christians share the hope of Christ with neighbors, church visitors, or anyone curious about the meaning of these Christian holidays.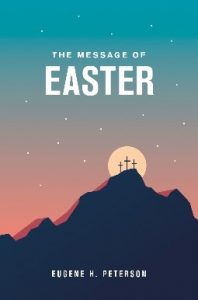 "The Message Bible, as Eugene H. Peterson put it, 'grew from the soil of forty years of pastoral work.' It was written as a means of putting God's Word in front of people who were either intimidated by the Bible or, frankly, bored with it," says NavPress publisher Dave Zimmerman. "These are the same people who take a chance on church twice every year—on Christmas and Easter. The Message of Christmas (like its sibling, The Message of Easter) is a great, low-bar gift to help people to consider, or reconsider, who Jesus is and why we should care."
Eugene H. Peterson is perhaps best known as the translator of The Message, a rendering of the Scriptures into contemporary language. Eugene always saw his principal vocation as that of a pastor, and his pastoral concern for the formation of his congregation was the driver of his unique translation of first the New Testament (in 1993) and later the Old Testament (in 2002). Having sold more than 20 million copies, The Message is one of the most significant versions of the Bible to be published in the past 50 years.
For more information or for media inquiries, please contact Keilah Jude, keilahjude@tyndale.com.
The Message of Christmas by Eugene H. Peterson
Softcover ISBN: 978-1-64158-667-2 | $4.99
20-pack ISBN: 978-1-64158-651-1 | $99.80
September 2022 release
The Message of Easter by Eugene H. Peterson
Softcover ISBN: 978-1-64158-561-3 | $4.99
20-pack ISBN: 978-1-64158-668-9 | $99.80
January 2023 release
Since its founding in 1962, Tyndale House Publishers has been a voice to trust for generations of readers. Tyndale's mission is to make the Bible accessible to as many people as possible in language that they can relate and respond to. Tyndale publishes the Holy Bible, New Living Translation (NLT) and also offers nonfiction books that equip readers with Christ-centered insight, counsel, and life-improving stories. In addition, Tyndale publishes fiction from fresh, new voices and celebrated authors alike, capturing the imagination of millions of readers. With a deep understanding of the importance of nurturing future generations, Tyndale also publishes children's products that make God's Word and wisdom come alive. Tyndale's independent status allows it to follow its founding model, contributing a majority of annual revenue—more than $110 million dollars throughout its history—to charitable missions. With every book purchased, Tyndale readers help meet the physical and spiritual needs of people around the world.
The NavPress mission is to advance the calling of The Navigators by bringing biblically rooted, culturally relevant, and highly practical products to people who want to know and love Christ more deeply. Through The Message Bible and other insightful resources, NavPress seeks to bring positive spiritual movement to peoples' lives. In January 2014, NavPress entered into an alliance with Tyndale House Publishers to strengthen and better position NavPress and its rich content for the future. NavPress provides books and other content that bring spiritual impact, life transformation, and help lead in the mission of making disciples.
The Message Bible is a NavPress resource published in alliance with Tyndale House Publishers.