NavPress to publish intimate collection of
Eugene Peterson's letters
Letters to a Young Pastor: Timothy Conversations between Father and Son will feature letters from Peterson to his son Eric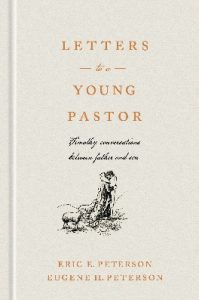 CAROL STREAM, ILL. (January 9, 2020) – NavPress (@NavPress) has announced that on June 9, 2020, it will release a collection of letters written by pastor/theologian Eugene H. Peterson.  Letters to a Young Pastor: Timothy Conversations between Father and Son (Hardcover, ISBN: 978-1-64158-111-0, $19.99), for the first time in print, will provide readers with an intimate look at Peterson's love for his family and passion for pastoring. A companion product, Letters to a Young Congregation: Nurturing the Growth of a Faithful Church (Hardcover, ISBN: 978-1-64158-115-8), written by Eric, will release simultaneously.
"There is a saying that the apple doesn't fall far from the tree," said Don Pape, Publisher, NavPress. "And that is most definitely true for this project. You can hear the wisdom of Eugene in the letters of both himself and his son. And it really is an honor to carry on the legacy begun by Eugene in providing letters that will help pastors work out their vocation with a congregation, be it large or small."
When Eric Peterson became the pastor of a brand-new church, he quickly and wisely turned to his dad for guidance. Eugene Peterson, author of more than thirty books including his bestselling memoir, The Pastor, and his groundbreaking Bible, The Message, reflects on pastoral ministry in all its complexity—from relationships to administration to the sheer audacity of leading God's people in a particular place. This is Eugene Peterson at his best—lifelong wisdom written with deep love.
Readers will glimpse the tender, witty, personal side of Eugene mentoring his own son. These intimate letters will be treasured by all who read, and applicable to church leaders around the globe.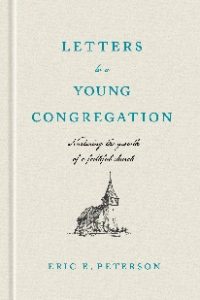 Letters to a Young Congregation, written as a collection of letters over several years by Eric, offers a poignant, pastoral vision for what the people of God are to be about in their personal lives and their life together. Readers will find this wisdom for one local church to be warm, winsome, knowing, understanding, and universally relevant.
Eric addresses essential questions such as "What is a church? What should a church be doing? What do we owe each other? What can we expect from one another? How do we follow Christ together?" A pastor in the state of Washington, he wrestled with how to grow his infant church into a mature Christian community. This book was born in the midst of a church coming to life and is a compelling read for any pastor, church leader, or congregant.
Additional information about both books is available at www.navpress.com.
Eugene H. Peterson (1932–2018) was a pastor for thirty years, as well as a theologian and scholar of biblical languages. The author of more than thirty books, he is best known for The Message, his translation of the Bible into contemporary, poetic language. His ministry as a pastor and his writings on theology and spirituality have shaped generations of Christians.
The NavPress mission is to advance the calling of The Navigators by bringing biblically rooted, culturally relevant, and highly practical products to people who want to know and love Christ more deeply. Through The Message Bible and other insightful resources, NavPress seeks to bring positive spiritual movement to peoples' lives. In January 2014, NavPress entered into an alliance with Tyndale House Publishers to strengthen and better position NavPress and its rich content for the future. NavPress provides books and other content that bring spiritual impact, life transformation, and help lead in the mission of making disciples.