NavPress releases "The Message of Psalms: Premier Journaling Edition" to encourage readers' active engagement with Scripture
CAROL STREAM, Ill. (April 20, 2021) NavPress, in alliance with Tyndale House Publishers, will release a new edition of Eugene Peterson's translation of the book of Psalms: The Message of Psalms: Premier Journaling Edition. The Message translation brings ancient biblical wisdom into contemporary language. This new edition, which releases on May 4, offers journaling prompts and generous writing space for readers to reflect on the text.
Eugene Peterson was a pastor, scholar, writer, and poet. After teaching at a seminary and then giving nearly thirty years to church ministry, he created The Message: The Bible in Contemporary Language—a vibrant Bible translation intended to uniquely connect with today's readers. As NavPress publisher Dave Zimmerman explains,
The Message has always been a means to facilitating a real relationship between God and real people—"a plunge into more reality," as Eugene put it. That's our vision for the premier journaling edition of The Message of the Psalms. By setting the Psalter in this wide-open space, by prompting and facilitating the reader's real and real-time reflection on what he or she is reading, by packaging the Psalms in bindings that allow us to consider which one feels most like us—we are seeking to set the table for a resonant encounter with a God who loves us each and all in our own particularities.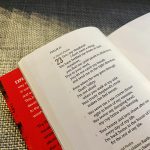 The Message of Psalms: Premier Journaling Edition will be released with three different cover options. Each copy features all 150 Psalms, reflective prompts, journaling space opposite each text page, a cover with French flaps, and Scripture callouts.
For more information or for media inquiries, please contact Mariah León, mariahleon@tyndale.com.
The Message of Psalms: Premier Journaling Edition
Softcover | $12.99 | May 4, 2021
978-1-64158-343-5 | 978-1-64158-398-5 | 978-1-64158-344-2
NavPress.com

The NavPress mission is to advance the calling of The Navigators by bringing biblically rooted, culturally relevant, and highly practical products to people who want to know and love Christ more deeply. Through The Message Bible and other insightful resources, NavPress seeks to bring positive spiritual movement to people's lives. In January 2014, NavPress entered into an alliance with Tyndale House Publishers to strengthen and better position NavPress and its rich content for the future. NavPress provides books and other content that bring spiritual impact and life transformation, and that help lead in the mission of making disciples.

Since its founding in 1962, Tyndale House Publishershas been a voice to trust for generations of readers. Tyndale's mission is to make the Bible accessible to as many people as possible in language that they can relate and respond to. Tyndale publishes the Holy Bible, New Living Translation (NLT), and also offers nonfiction books that equip readers with Christ-centered insight, counsel, and life-improving stories. In addition, Tyndale publishes fiction from fresh, new voices and celebrated authors alike, capturing the imaginations of millions of readers. With a deep understanding of the importance of nurturing future generations, Tyndale also publishes children's products that make God's Word and wisdom come alive. Tyndale's independent status allows it to follow its founding model, contributing a majority of annual revenue—more than $110 million dollars throughout its history—to charitable missions. With every book purchased, Tyndale readers help meet the physical and spiritual needs of people around the world.