National Book Tour for Tony Dungy's "The Soul of
a Team" kicks off January 22
Dungy will sign books in New Jersey, Indiana, and Florida during his two-week tour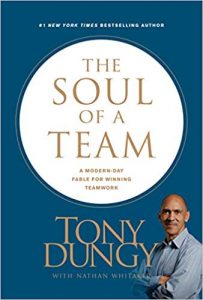 CAROL STREAM, ILL. – Tyndale House Publishers (@tyndalehouse) has announced that Tony Dungy, Pro Football Hall of Fame coach, football commentator, and #1 New York Times bestselling author, will kick off a national tour on Tuesday, January 22, to promote his new book, The Soul of a Team, which he wrote with Nathan Whitaker. The Soul of a Team (Tyndale House Publishers, $26.99, hardcover, 978-1-4964-1376-5) is Dungy's seventeenth book, which includes ten children's books he co-authored with his wife, Lauren. In addition to eight book signings, Dungy is scheduled to make national media appearances on NBC's Today and FOX News's The Story with Martha MacCallum, among others.
As a former Super Bowl–winning coach, Dungy is an expert at building and bringing out the best in a team. Drawing on his experiences from years of coaching and working with other leaders, this football fable lays out four essential principles practiced by truly effective teams. Telling the story of a fictional NFL team looking for a turnaround, The Soul of a Team not only identifies some of the most common issues that hold a team back but also lays out a game plan for winning teamwork. Tony's principles can be applied to any team, whether it relates to business, sports, or families. The book includes a bonus group-discussion guide.
The book-signing schedule is as follows:
Tuesday, January 22
Time: 6:00 p.m. ET
Bookends
211 East Ridgewood Avenue
Ridgewood, New Jersey
(201) 445-0726
Friday, January 25 
Time: 2:30 p.m. ET
Indiana University Bookstore
900 East 7th Street (in Indiana Memorial Union)
Bloomington, IN
(812) 856-2665
Time: 5:00 p.m. ET
Indiana University Simon Skjodt Assembly Hall
1001 East 17th Street
Bloomington, IN
Saturday, January 26
Time: 12:00 p.m. ET
Sam's Club
6736 Lima Road
Fort Wayne, IN
(260) 490-0626
Time: 7:00 p.m. ET
Barnes & Noble
14790 Greyhound Plaza
Carmel, IN
(317) 844-2501
Tuesday, January 29
Time: 12:00 p.m. ET
Books-A-Million
4225 14th Street West
Bradenton, FL
(941) 748-3911
Time: 7:00 p.m. ET
Books-A-Million
6111 Newberry Road
Gainesville, FL (The Oaks)
(352) 331-9093
Wednesday, January 30
Time: 7:00 p.m.
Barnes & Noble
1055 Old Camp Road
The Villages, FL
(352) 430-3029
Tony Dungy is a #1 New York Times bestselling author whose books include Quiet Strength, Uncommon, The Mentor Leader, and Uncommon Marriage, the last of which he wrote with his wife, Lauren. He has also written ten children's books with Lauren as well. He led the Indianapolis Colts to Super Bowl victory on February 4, 2007—the first such win for an African American head coach. Dungy established another NFL record by becoming the first head coach to lead his teams to the playoffs for ten consecutive years. He joined the Colts in 2002 after serving as the most successful head coach in Tampa Bay Buccaneers history. Dungy has also held a number of assistant coaching positions. Before becoming a coach, he played three seasons in the NFL. He was inducted into the Pro Football Hall of Fame in 2016. Dungy retired from coaching in 2009 and now serves as a studio analyst for NBC's Football Night in America. Tony and Lauren are the parents of ten children.

Since its founding in 1962, Tyndale House Publishers has been a voice to trust for generations of readers. Today, Tyndale is one of the largest independent Christian publishers in the world. Tyndale's mission is to make the Bible accessible to as many people as possible in language that they can relate and respond to. Tyndale publishes the Holy Bible, New Living Translation (NLT) and offers nonfiction books that equip readers with Christ-centered insight, counsel, and life-improving stories. In addition, Tyndale publishes fiction from fresh new voices and celebrated authors alike, capturing the imagination of millions of readers. With a deep understanding of the importance of nurturing future generations, Tyndale also publishes children's products that make God's Word and wisdom come alive. Tyndale's independent status allows it to follow its founding model, giving a majority of annual revenue—more than $100 million throughout its history—to charitable missions. With every book purchased, Tyndale readers help meet the physical and spiritual needs of people around the world.