Multi-PLATINUM performer Brett Young turns hit single, "Lady" into children's book, "Love You, Little Lady"
A tribute to his wife and daughters, new children's book hits shelves August 24.  Pre-order available now.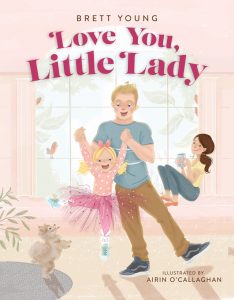 NASHVILLE, Tenn. (August 3, 2021) – Multi-Platinum entertainer Brett Young transforms his touching GOLD-certified, No. 1 hit single "Lady" into a new children's picture book, "Love You, Little Lady" which goes on sale August 24 everywhere books are sold.
Dedicated to his wife and baby girls, "Love You Little Lady" reflects the boundless love parents have watching their baby daughter grow into a "little lady." Through stirring rhymes and warm, sweet illustrations, Young takes readers through the wonder of hearing a baby girl's first heartbeat, holding her for the very first time, counting her fingers and toes, guiding her first steps, and watching her grow.
"'Lady' is easily one of the most special songs I've ever written," said Young. "Becoming a dad has changed everything for me…I've heard from so many families saying how much the song has meant to them as well, which is the dream as a songwriter. When we were given the opportunity to transform 'Lady' into a children's book, it was such an easy 'yes.' Taylor and I feel so blessed to have this book as a keepsake and to read to our girls as they grow up."
"Love You, Little Lady" is a joyful read and gift celebrating the moments of now and the moments to come — from the meeting one's newborn daughter, to the years of growing, learning, and sharing that the future brings to families.
Young is an award-winning country music singer-songwriter, whose love for his family inspired him to write the hit single "Lady." The California-born singer has captured the hearts of fans everywhere with his heartfelt lyrics and West Coast-meets-Southern sound. He recently released an 8-song collection, WEEKENDS LOOK A LITTLE DIFFERENT THESE DAYS, this summer and returns to the road with his THE WEEKENDS TOUR kicking off in September.
"Love You, Little Lady" (ISBN# 9781400225071) is ideal for ages 4-8 and will be released on August 24, 2021 and now is available for pre-order everywhere books are sold.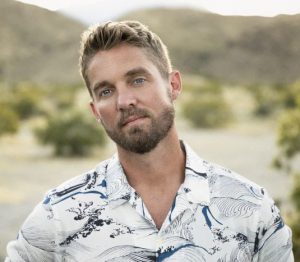 About the Author, Brett Young
Brett Young has garnered seven consecutive No. 1 singles. His new collection WEEKENDS LOOK A LITTLE DIFFERENT THESE DAYS (BMLG Records) follows his GOLD-certified sophomore effort, TICKET TO L.A, which debuted atop the Billboard Country Albums chart. His PLATINUM self-titled debut dominated the Top 20 on the Country Albums chart for 37 weeks and contributed to 5.5 billion streams globally. He is an ACM Award winner with additional nominations from CMA, Billboard, Teen Choice, iHeartRadio, and CMT Music Awards.  Brett lives in Nashville, Tennessee, with his wife, Taylor, and their two daughters.
About the Illustrator, Katy Hudson
Katy Hudson started her illustration career as a small child drawing on walls around the house. Her parents quickly dissuaded this medium and encouraged pencil and paper instead. The idea stuck, and Katy went on to pursue and study art, earning her degree in illustration. She currently works as a freelance illustrator living and working in South London with her husband and daughter.
About Tommy Nelson
Tommy Nelson® is the children's division of Thomas Nelson. As a leading provider of Christian content, Tommy Nelson publishes a wide variety of high-quality, enjoyable products that are consistent with the teachings found in the Bible. Tommy Nelson's award-winning products are designed to expand children's imaginations and nurture their faith while inspiring them to develop a personal relationship with Jesus. For more information, visit www.tommynelson.com.
Media contact:  Natividad Lewis, Publicist, 931.698.9620, natividad.lewis@harpercollins.com