Multi-award-winning author gives mothers a sweet bedtime ritual with babies, toddlers in new children's book
Full-color board book features colorful illustrations, peaceful prayers for a soothing bedtime routine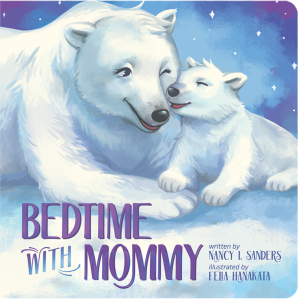 NASHVILLE, TN., August 2021—At the end of the day, every child needs the comfort of a bedtime ritual before falling asleep. Reading a story before bed is one of the most popular bedtime routines that not only brings comfort, but also creates family traditions and memories that will last a lifetime.
In her new children's book, Bedtime with Mommy (End Game Press, Aug. 24, 2021, $8.99, 1637970005), bestselling and multi-award-winning author of over 100 books, Nancy I. Sanders, brings a sweet, new board book to add to bedtime reading for mothers and their little ones. From polar bears to elephants and kangaroos, children are drawn into the dens, nests and pouches of sleepy baby animals who are lovingly tucked in by their mothers.
Bedtime with Mommy is perfect for babies and toddlers ages 1-4 years of age and is sure to be a cherished, favorite bedtime routine. Children will not only be soothed to sleep, but they will also learn about the unique characteristics of God's creation in the world around them as they are reminded of just how loved they are.
With beautiful illustrations by Felia Hanakata, Bedtime with Mommy takes children on a colorful journey as they visit unique habitats around the world including the arctic, rainforest and ocean. Written in easy-to-read-rhyme, Sanders also weaves in gentle prayers, Psalms and reminders of God's love.
"With four grandchildren under the age of 6, I see how important bedtime routines are to children," says Sanders. "Bedtime with Mommy gives mothers everywhere concrete examples for imparting faith-filled precious moments to their children at bedtime."
Sanders is available for interviews and can speak to a variety of topics, including:
Instilling faith into the lives of young children through the power of bedtime reading
How to create a meaningful bedtime routine for your family
Prayers and Psalms that will soothe and comfort children at bedtime
Why incorporating bedtime reading increases the bond between parent and child
How a child's bedtime routine benefits the entire home
Tips for making bedtime fun and relaxing for your toddler
"Bedtime can often be a challenge, especially with babies and toddlers," says Sanders. "I hope little ones will find comfort, reassurance, and a sense of calm as they include reading Bedtime with Mommy as part of their routine each night."
About the Author
Nancy I. Sanders is a multi-award-winning children's author of over 100 books. She is the co-winner of the ECPA's 2018 Young People's Literature Award for the best in MG/YA nonfiction in the Christian market, and some of her favorite topics to write about are God, Bible stories, educational subjects, African American history, and Jane Austen. While Nancy loves to spend her time writing books and working on various manuscript projects, she also enjoys sewing patchwork quilts, gardening and capturing the beauty of God's beautiful creation on film. Nancy and her husband, Jeff, live in southern California and attend Calvary Chapel Chino Hills Church.
About the Illustrator
Felia Hanakata is an Indonesia-based illustrator who attended the Academy of Art University and completed her BFA in Illustration. She thinks story-telling breathes life and colors into the world. When she is not drawing, she usually reads, drinks lots of coffee, plays video games, and looks for inspiration in nature and her surroundings. 
About End Game Press


Launched by award-winning author Victoria Duerstock in 2020, End Game Press is a traditional publishing house where ordinary people accomplish extraordinary things. End Game Press puts authors first, educating them on the entirety of the publishing process and providing them with the needed training to be successful. With a goal to create beauty and cultivate community, End Game Press publishes fiction, nonfiction, and children's titles into both general and Christian markets. Learn more at www.endgamepress.com.
 Media Contact: Christina Bostick, christina@iconmediagroup.com
---
SUGGESTED INTERVIEW QUESTIONS
Nancy I. Sanders, Bedtime with Mommy
Nancy, you are a bestselling and multi-award-winning author of over 100 children's books. How has writing books for children shaped your life? What do you most enjoy about it?
Your new book, Bedtime with Mommy, brings moms and children together creating a purposeful bedtime routine. Can you share more about the book and what inspired you to write it?
What will mothers and their children gain from reading this bedtime story together?
How does having a bedtime reading routine impact the mom/child relationship?
What do you hope children will take away from this story?
Prayers and Psalms are sweetly woven into the story. Can you talk about the importance of instilling faith into the lives of young children?
What is one of your favorite Psalms that brings comfort?
Do you have any tips for creating a meaningful bedtime routine?
Can you share some encouragement with listeners, specifically mothers, who might struggle with parenting and don't feel as if they are doing enough?
How can our audience connect with you online, and where can they purchase a copy of Bedtime with Mommy?