Mountain Brook Ink launches new Speculative Fiction Imprint
Mountain Brook Ink Celebrates Growth with New Imprint, Mountain Brook Fire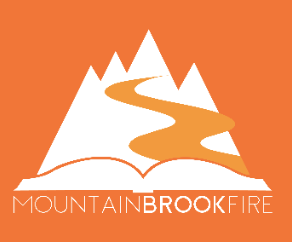 WHITE SALMON, WA., DEC. 22, 2019 — Mountain Brook Ink is launching a new speculative fiction imprint, Mountain Brook Fire, dedicated to Christian and clean speculative fiction for upper middle grade, young adult, and adult audiences.
Since its beginning in 2014, small press Mountain Brook Ink (MBI) has published inspirational adult and young adult fiction of all kinds, from romance, to mystery, to fantasy. However, MBI has always been best known for romance and women's fiction. As of 2020, the publisher will be dedicating an imprint specifically to speculative fiction.
Mountain Brook Fire was created out of our team's love of imagination and our desire for thrilling, quality speculative fiction that won't prick your conscience or make your teeth rot from saccharine sweetness—in short, the way meaningful fiction should be! We're dedicated to quality worldbuilding, spellbinding plots, and high-stakes adventures with a whole lot of heart for middle grade, young adult, and adult audiences.
Current speculative fiction works with MBI will be transferred over to the new line. The imprint will kick off January 1. The first release coming in May, Let the Ghosts Speak, an adult speculative fiction novel from Bryan Davis, the bestselling author of series such as Dragons in Our Midst and Dragons of Starlight, with over a million copies sold.
Mountain Brook Fire will publish both Christian and general market speculative fiction, as long as it's clean—meaning no on-the-page sex, sexual innuendos, swearing, or brutality. Action and a measure of violence consistent with a supernatural thriller, superhero book, or sci-fi book is acceptable, depending on how it's handled.
Mountain Brook Ink is a small press based out of White Salmon, Washington owned by multi-published and ECPA bestselling author, Miralee Ferrell. MBI authors have finaled in and won prestigious awards such as the Cascade Award, Faith Hope and Love, Selah, Christy, and Carol Awards.  To find out more about Mountain Brook Ink's publications go to: www.mountainbrookink.com
Media Contact: Alyssa Roat, alyssa@mountainbrookink.com