Moody Publishers announce staff promotions
CHICAGO, IL – Effective February 1, 2022, Moody Publishers is pleased to announce the promotions of Randall Payleitner and Trillia Newbell.
Randall Payleitner has been appointed to Publisher at Moody Publishers. Randall started at Moody Publishers in 2005 after studying Creative Writing and World Religions at the University of Illinois at Urbana-Champaign. Over the years, he has done some marketing/copywriting work, developmental editing, acquisitions, and most recently he has served as the Editorial Director and Associate Publisher. He is also a graduate of the Moody Theological Seminary.
"Randall is an extraordinary leader and strategist. He brings the perfect blend of wisdom, vision, and publishing expertise to the house, while prioritizing both mission and performance," says Paul Santhouse, VP of Publishing at Moody Publishers. "I've seen Randall investing whole-heartedly in team members, authors, and industry partners alike. It's truly a privilege to learn from and serve with him on behalf of our readers."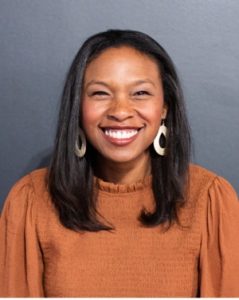 Trillia Newbell now serves as the Director of Acquisitions at Moody Publishers. Trillia published her first book United with Moody Publishers in 2014 followed by Fear and Faith in 2015. Since then, Trillia has continued to publish with Moody including two Bible studies (If God Is For Us and A Great Cloud of Witnesses), a kids' chapter book, Creative God, Colorful Us, and the upcoming 52 Weeks In the Word (Nov 2022). After eight years at the Ethics and Religious Liberty Commission of the SBC serving as the Director of Community Outreach, Trillia joined the Moody team as an acquisitions editor in 2022. For Trillia, joining the team at Moody was like coming home to a place where her words have been handled with care and enthusiasm.  She is honored to serve and lead the team of capable acquirers into the future of publishing.
"It's a true privilege to have Trillia Newbell leading our acquisitions team. She brings spiritual wisdom, a deep understanding of church and culture, and a great respect for our authors. Trillia's commitment to serving our readers well is noteworthy. I've learned much from her and am delighted to have her leading this crucial team," says Paul Santhouse, VP of Publishing at Moody Publishers.
For more information about Moody Publishers, please visit www.moodypublishers.com or call 800-678-8812.
About Moody Bible Institute:  Moody Bible Institute is a higher education and media ministry that exists to equip people with the truth of God's Word to be maturing followers of Christ who are making disciples around the world.  Moody is best known for its education branch, which includes a fully-accredited undergraduate school and seminary, as well as distance learning.  Other primary ministries include Moody Radio and Moody Publishers.
CONTACT:  Kathryn Eastham, Kathryn.eastham@moody.edu