Michael W. Smith to launch Zonderkidz books
in new Nurturing Steps™ Series
Nighty Night and Good Night is first book in collaboration with VeggieTales co-creator Mike Nawrocki; Lullaby album to accompany book release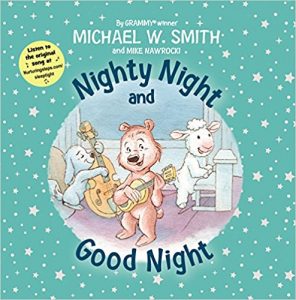 Grand Rapids, MI – March 21, 2018 – Multi-platinum, three-time Grammy Award winning artist Michael W. Smith, known as one of the most influential Christian music artists in the world, will be releasing a new children's book titled, Nighty Night and Go0d Night, May 8, 2018. This title, written with the help of friend and co-creator of VeggieTales Mike Nawrocki, is the first release in a new book series called Nurturing Steps™. A new album "Lullaby" from Smith will be released in conjunction with the first book and available everywhere.
In Nighty Night and Good Night, members of the Nighty Night band are called upon to help their friend, Ben, as he tries to fall asleep. After bedtime prayers and some going-to-sleep rituals are done, a lullaby sung by the band of animals including Bear, Sleepy Puppy and Lamby finally does the trick. Parents will be delighted in this sweet tale to share with their young children.
"One of the greatest joys of my life is being a parent and a grandparent," says Michael W. Smith, the father of five, who is called "G-Daddy" by his 14 grandkids. "I want to serve the next generation well. That's why I created Nurturing Steps, to provide stories and songs that will help shape the faith of our newest generation." Nurturing Steps seeks to provide children's music and books to enliven a little one's journey with hope and faith through song and storytelling.
"We're so humbled that Michael and Mike chose to publish these messages of reassurance and tenderness for young families with Zonderkidz," said Annette Bourland, Senior Vice President and Group Publisher at Zondervan. "We love the creative flair of Nurturing Steps as it reaches young children with stories of delight." Zonderkidz will publish the second title in this series in conjunction with Smith and Nawrocki in October 2018.
Smith has recently been in the media spotlight for his two new album releases "A Million Lights" and "Surrounded", a worldwide 2018 tour, and an upcoming Israel trip he's hosting. In addition to the new music and overseas activities, he recently received the distinct honor of leading worship during the memorial and funeral services honoring the late Rev. Billy Graham.
Even in the midst of busy times, Smith makes time for his children and grandchildren and treasures the special moments he has to speak into their lives. "I hope they see these books and this music as a gift to them, to remember that they are loved as they fall asleep every night."
Nighty Night and Good Night will be available online and in stores May 8, 2018, but it is available for preorder now. Additional titles will be available in Fall 2018.
#NightyNightBook #NurturingSteps #Zondervan #Zonderkidz
www.zondervan.com www.nurturingsteps.com
Twitter: @michaelwsmith Instagram: @mwsmithofficial Facebook: @michaelwsmithofficial
Web: www.michaelwsmith.com
About the Authors:
Michael W. Smith is a successful recording artist who has recorded more than 25 albums and had numerous hit radio songs in the Christian and General markets. He's won numerous Grammy and Dove Awards and is the founder of Rocketown, an outreach to teenagers in a 38,000 squarefoot facility in downtown Nashville, Tennessee. He is involved in mission work around the world. He and his wife Debbie have five children and fourteen grandchildren and live in Nashville.
Mike Nawrocki is co-creator of the popular series VeggieTales. Acting as the voice of Larry the Cucumber and several other VeggieTales characters, Mike also wrote, directed and contributed to the development of the 3-2-1 Penguins series. He resides in Franklin, TN, with his wife and two children.
Zonderkidz™, the children's division of Zondervan, inspires young lives through imagination and innovation. As the leader in Christian children's communications, it creates products that awaken the hearts and touch the souls of kids under 14. Zonderkidz is also publisher of the NIrV (New International Reader's Version) Bible translation, the third grade reading level edition of the NIV. For additional information, please visit www.zondervan.com.
Zondervan is a world-leading Bible publisher and provider of Christian communications. Zondervan, as part of HarperCollins Christian Publishing, Inc., delivers transformational Christian experiences through its bestselling Bibles, books, curriculum, academic resources and digital products. The Company's products are sold worldwide and translated into nearly 200 languages. Zondervan offices are located in Grand Rapids, MI. For additional information, please visit www.zondervan.com.