Max Lucado's "Unshakable Hope" debuts
on national bestseller lists
Book debuts in first week on New York Times, Wall Street Journal, USA Today andPublishers Weekly lists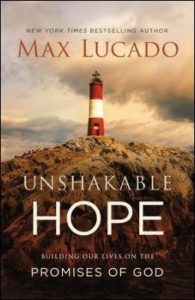 Nashville, TN (August 24, 2018) — Unshakable Hope: Building Our Lives on the Promises of God (Thomas Nelson) by Max Lucado debuts after one week of release on four national bestseller lists: The New York Times (#7 Advice, How-To & Misc., August 26). The Wall Street Journal(#7 Hardcover Non-Fiction, August  12), USA Today (#53, August 12) and Publishers Weekly (#11 Hardcover Non-Fiction, August 20).
"Max Lucado has his finger on the pulse of our nation. Unshakable Hopeis exactly what we need today," says David Moberg, Senior Vice President and Publisher for HarperCollins Christian Publishers. "For all who who long for hope and encouragement, for a good word from a trusted pastor, Max delivers."
Lucado launched Unshakable Hope, his 40th adult trade title, with a special event at the Museum of the Bible in Washington, DC. The event was seen by more than 250,000 people via social media. Lucado was also featured on national media including Rick & Bubba, Fox News Radio, Moody Broadcasting, Life Today, Keep the Faith, and a drop-by on The TODAY Show. Media appearances continue this fall on Daystar TV, The Dave Ramsey Show, Extra TV, The 700 Club, and more.
Thomas Nelson sponsored a pre-sale campaign which benefitted the Salvation Army and Prison Fellowship International. Consumers who pre-ordered Unshakable Hope were able to donate a special ministry edition to these international ministries.
In Unshakable Hope, Lucado applies God's promises to every area of life, including insecurities, disappointments, depression, illness, condemnation, and the question of evil in the world. With a storyteller's gift and a pastor's heart, Lucado points readers to a God whose promises are unchanging and whose love is beyond measure. www.UnshakableHopeBook.com
"Build your life on the promises of God. Since his promises are unbreakable, your hope will be unshakable," Lucado writes. "The winds will still blow. The rain will still fall. But in the end you will be standing—standing on the promises of God."
Max Lucado is America's bestselling inspirational author, with more than 130 million products in print,. His writings have been shaped into bestselling books, videos, devotionals, songs, greeting cards, booklets, Bible studies, commentaries and theatrically-released movies. Lucado has been featured on countless national media outlets including The TODAY Show, Good Morning America, NPR's All Things Considered and Fox & Friends. Max and his wife of over 35 years, Denalyn, call San Antonio, Texas, home. Max has served the people of Oak Hills Church since 1988. www.maxlucado.com
Thomas Nelson is a world-leading publisher and provider of Christian content and has been providing readers with quality inspirational product for more than 200 years. As part of HarperCollins Christian Publishing, Inc., the publishing group provides multiple formats of award-winning Bibles, books, gift books, cookbooks, curriculum and digital content, with distribution of its products in more than 100 countries. Thomas Nelson is headquartered in Nashville, Tenn. For additional information visit www.thomasnelson.com.
Contact: Jana Muntsinger, MMPR, jana@mmpublicrelations.com, 281-251-0480