Major League baseball wife compels readers
to evaluate their faith in new book
"Making Room" is the freeing encouragement you need to open yourself to the continual cleansing work of the Holy Spirit
Billie Jauss reminds readers to make room for Him—they only One who can satisfy your soul.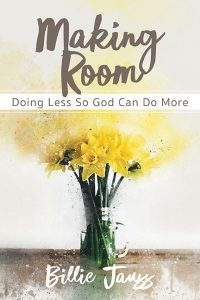 BIRMINGHAM, Ala.: "What is God doing in and through you?" It's a question we all should ask ourselves. When Billie Jauss was compelled to ask herself this question by her pastor, it sent her on a spiritual journey that made her question the stagnant nature of her faith—and the reasons behind it.
Busyness.  Distractions.  Motherhood.  Travel.
As a wife to a Major League Baseball coach and mother to three grown boys, Billie's life is very full—but she learned that making room for her relationship with Christ and leading others to do so, even within the MLB community, is her greatest joy. She is a dynamic speaker and witness for Christ—whether to large groups or in the baseball stands.
In Making Room: Doing Less So God Can Do More (New Hope Publishers/January 15, 2018/ ISBN: 978-1-62591-535-1/$14.99), Billie shares her discoveries and helps each of us dig deeper toward a refreshed and renewed faith, one in which the distractions of life are put into perspective and we allow God to do more with us and through us. As Paul writes in Ephesians, God can do immeasurably more in our lives than we could think or imagine. Through Making Room, discover all the meaningful life moments that God has for you to glorify Him.
Learn more about Billie Jauss and Making Room at www.BillieJauss.com.
To request a review copy of Making Room, to schedule an interview with Billie Jauss, or for more information, please contact Meredith Dunn, Meredith@NewHopePublishers.com.
Advance Praise
"I wouldn't have guessed that I had much in common with the wife of a Major League Baseball coach, but Billie Jauss showed me differently in Making Room. As soon as I read her counsel to choose 'activities that are God glorifying not schedule stuffers,' I knew she was speaking my language. In practical and genuine ways, Making Room offers us the tools we need to leave space for God to work in our lives and through our lives. A book to which I'll no doubt need to return often." —Cynthia Ruchti, author of A Fragile Hope and As My Parents Age
"Billie lives life with such full-throttle passion yet she has learned how to listen to the 'holy nudge' that directs one to God's blueprints. As a recovering control freak, I smiled as I read the process of Billie learning the liberating truth of doing less so God can do more. Billie inspires the reader to release the firm grip on one's blueprints and with open palms accept the 'Papa Approved' script for one's life! I applaud your transparency, Billie!" —Jackie Kendall, president of Power to Grow Inc., author of Surrender Your Jr. God Badge.
"Making Room is a compass for anyone who wants to learn to fall in love with Jesus and find true joy in your life. Billie not only writes from the heart, she lives it! You need to make time for Making Room." —Rod Olson, author of The Legacy Builder and The Wisdom Lunch Warrior
About the Author
While most of Billie Jauss's adult life has been filled with the adventure and excitement of being married to a professional baseball coach, it took a quiet Sunday morning to propel her on the spiritual journey of a lifetime. Now, her passion is for everyone to experience God's immeasurably more—just as she has. Billie prefers to spend time writing, speaking, and reading books while sitting on the beach and sharing the love that God has shown her with others. She and her husband David have lived in fourteen cities, eight states, and three countries with their boys DJ, Charley, and Will.
Keep up with Billie Jauss's speaking schedule, read her blog, and more by visiting www.BillieJauss.com.
Suggested Interview Topics
You have been a Christian for most of your life—what changed in you that you felt so led to live this message "all in" and share it with others?
How/why did the question your pastor asked start you on this spiritual journey?
What did that spiritual journey look like? How were you changed? What is your goal in writing about this spiritual journey? What revelations did you have during this journey—and the writing of Making Room?
How do you intertwine your faith with your baseball life?
Can you explain intentional living and what it means to live a 'whatever' life?
What is it that you want people to get from reading this book?
Being a baseball wife and now writing a book—what does success mean to you?
You write, "I wanted to know the answer to the question in my life, "What is God doing in and through you?" In my journey, I also began to ask myself, "What do you want your meeting with Jesus to be like when you meet Him face-to-face?" Can you explain what you learned?
Fun fact about Billie: Billie dreamed of becoming a missionary as a young girl, but she had no idea her mission field would be an actual field—the baseball field.
To request a review copy of Making Room, to schedule an interview with Billie Jauss, or for more information, please contact Meredith Dunn, Meredith@NewHopePublishers.com.