Maggie Wallem Rowe's "This Life We Share" is Barnes & Noble bestseller
Debut author's reflections on journeying well with God and others releases May 5 with NavPress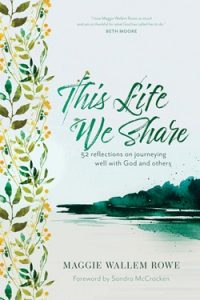 COLORADO SPRINGS, COLO. (May 1, 2020)—Debut author Maggie Wallem Rowe's This Life We Share: 52 Reflections on Journeying Well with God and Others (NavPress, ISBN: 978-1-64158-007-6, HC, $17.99) releases May 5 from NavPress and it is already resonating with readers as it debuted on the Barnes & Noble bestsellers list at No. 59 among all books on Friday, May 1.
Wrote New York Times bestselling author Beth Moore, "I love Maggie Rowe so much and am so thankful for what God has called her to do."
This Life We Share is a woman's guide to living well—from the inner journey of dealing with anxiety and insecurity to the everyday moments of waiting and distraction to practical principles for parenting, grandparenting, and aging.
Acquisitions editor Caitlyn Carlson said, "As our world weathers disruption and fear, we're grateful for Maggie's wisdom and encouragement about the ways we walk through this life together, even when we are apart. This book is a balm for the weary heart."
Jesus once said of the woman who anointed his feet, "She did what she could" (Mark 14:8, NIV)—and that is the goal of this book: to provide insights and wisdom for walking through life with the confidence that you're doing what you can to live well for God, love others, and take care of yourself.
Additional information about This Life We Share is available at https://www.navpress.com/p/this-life-we-share/9781641580076.
Maggie Wallem Rowe is a national speaker, dramatist, blogger, and writer who has contributed to more than ten books, including numerous devotional Bibles. Maggie has traveled extensively throughout the United States and abroad, performing original one-woman dramas that she authored and speaking at outreach programs, conferences, community events, and retreats. She holds an undergraduate degree in communications with a minor in education, as well as a graduate degree in biblical studies, both from Wheaton College (IL). Maggie lives near Asheville, NC, with her husband, Mike. The Rowes have three adult children and five grandchildren. This Life We Share is her first book. Visit Maggie at www.MaggieRowe.com.
The NavPress mission is to advance the calling of The Navigators by bringing biblically rooted, culturally relevant, and highly practical products to people who want to know and love Christ more deeply. Through The Message Bible and other insightful resources, NavPress seeks to bring positive spiritual movement to peoples' lives. In January 2014, NavPress entered into an alliance with Tyndale House Publishers to strengthen and better position NavPress and its rich content for the future. NavPress provides books and other content that bring spiritual impact, life transformation, and help lead in the mission of making disciples