Louie Giglio writes first children's devotional,
Indescribable: 100 Devotions for Kids About God and Science
New devotional makes Giglio's sermon series for adults applicable to kids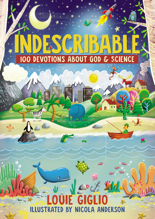 NASHVILLE, Tenn. (Sept. 26, 2017) — Since 1997, Louie Giglio, pastor and founder of Passion City Church, has gathered collegiate-aged young people in spiritual events across the United States and around the world. These events have opened young believers' eyes to the wonders of God's creation and His love. Now, Giglio encourages children of all ages to expand their faith with his first children's book, Indescribable: 100 Devotions for Kids About God and Science (Oct. 10, 2017).
With more than one million social media followers between his personal accounts and those affiliated with Passion, Giglio has grown a platform of more than just college students–reaching pastors, parents, and adults around the world. Indescribable makes the information from his faith-changing series of the same name, geared toward adults years ago, applicable to a new generation. Each devotion includes Scripture, a story, an application, a prayer, and a fascinating science section (some sections have experiments that kids can do at home!) to keep kids engaged and curious about the fusion of faith and science topics.
"There is so much to learn about what God has created—about the earth, space, our bodies, and the weather," said Giglio. "It's awe-inspiring! Each devotional teaches children about the coolest parts of God's creation and will encourage kids to grow in their faith in the Creator himself. We explore the facts and learn how incredible it is that the designer of it all knows us by name. He loves us, he cares for us, and to know that is a joy that is truly indescribable."
Indescribable is a resource for faith and science to come together in a conversation, because no question is too big for God.
About Louie Giglio:
Louie Giglio is pastor of Passion City Church and founder of the Passion movement, which exists to call a generation to leverage their lives for the fame of Jesus.
Since 1997, Passion has gathered collegiate-aged young people at events across the U.S. and around the world, uniting millions of students in worship, prayer, and justice.
In addition to the collegiate gatherings of Passion Conferences, Louie and his wife, Shelley, lead the teams at Passion City Church, sixstepsrecords, and the Passion Global Institute. Louie is the author of national bestsellers Goliath Must Fall, The Comeback, The Air I Breathe, and I Am Not But I Know I Am. Louie and Shelley make their home in Atlanta.
About Tommy Nelson:
Tommy Nelson® is the children's division of Thomas Nelson. As a leading provider of Christian content, Tommy Nelson publishes a wide variety of high-quality, enjoyable products that are consistent with the teachings found in the Bible. Tommy Nelson's award winning products are designed to expand children's imaginations and nurture their faith while inspiring them to develop a personal relationship with Jesus. For more information, visit www.tommynelson.com.
Contact:  Stefanie Schroeder, Publicity Manager
tel: (615) 902-1722  e-mail: stefanie.schroeder@harpercollins.com