Louie Giglio expands Indescribable Kids series with new book and podcast on top of milestone
"Indescribable: 100 Devotions About God & Science" surpasses 500,000 books sold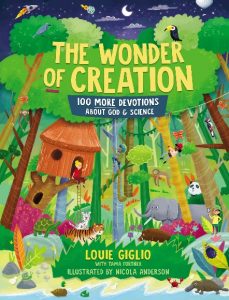 NASHVILLE, Tenn. (Oct. 27, 2021) – Well-known for his powerful messages about science and the Bible, Louie Giglio has a passion for inspiring kids to notice, enjoy and be in awe of God's creation. He now is expanding the bestselling and well-loved Indescribable devotional series with a new book, The Wonder of Creation: 100 More Devotions about God and Science, releasing Tuesday, Nov. 16, and new podcast, The Indescribable Kids Podcast, debuting Tuesday, Nov. 2.
The Wonder of Creation: 100 More Devotions about God and Science offers young readers more mind-blowing, faith-building, scientific facts and biblical truths about God's creation. Leading with the same STEM-related learnings Indescribable-series readers have come to know, The Wonder of Creation: 100 More Devotions about God and Science explores the marvels and curiosities of the animal kingdom, outer space, the human body and the Earth. Young readers will learn about flying snakes to white rhinos, volcanic moons to gamma-ray bursts, rainbow rivers to blue lava, brain freezes and more.
With engaging illustrations and striking photography, this fun and informative book is ideal for children ages 6–10. Each of the 100 devotions features a short Bible verse, a prayer, and a scientific fact or easy activity for further exploring one's faith.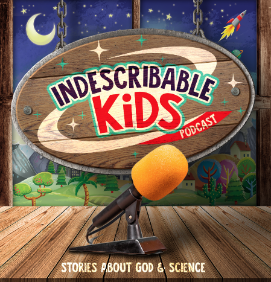 The Indescribable Kids series was recently adapted into a podcast format. Described as a podcast for kids by kids, The Indescribable Kids Podcast launches Tuesday, Nov. 2. Building on the key messages and STEM-related topics, each episode dives into facts about God and science in 3 to 8-minute discussions between the Indescribable book series characters, Evyn, Raz, Norah and Joshua.
The new additions to the series come alongside of the announcement that Indescribable: 100 Devotions About God and Science (Thomas Nelson, ISBN# 9780718086107, Oct. 10, 2017) has surpassed the milestone of selling more than half a million copies. Having received positive reviews from acclaimed Christian personalities like Chris Tomlin, Jaime Ivey and Matt Redman, Indescribable: 10\0 Devotions About God and Science also has been recognized with the Evangelical Christian Publishers Association (ECPA) Gold Award, an accolade that recognizes outstanding sales achievement in the publication of quality Christian literature.
More information about Louie Giglio can be found at louiegiglio.com. To learn more about the Indescribable Kids series, podcast, and to access free downloadable activity sheets and educator guides, visit www.indescribablekids.com.
The Wonder of Creation: 100 More Devotions About God and Science (ISBN# 9781400230464) will be available Nov. 16, 2021 wherever books are sold. 
About the Author:  Louie Giglio is Pastor of Passion City Church and Original Visionary of the Passion movement, which exists to call a generation to leverage their lives for the fame of Jesus.  Since 1997, Passion Conferences has gathered collegiate-aged young people in events across the US and around the world. Most recently, Passion hosted over 700,000 people from over 150 countries online at Passion 2021.  Louie is the national-bestselling author of over a dozen books including his newest release, Don't Give the Enemy a Seat at Your Table, as well as Goliath Must Fall, Indescribable: 100 Devotions about God & Science, The Comeback, The Air I Breathe, I Am Not But I Know I Am, and others. As a communicator, Louie is widely known for messages like Indescribable and How Great is Our God.  An Atlanta native and graduate of Georgia State University, Louie has done post-graduate work at Baylor University and holds a master's degree from Southwestern Baptist Theological Seminary. Louie and Shelley make their home in Atlanta.
About Tommy Nelson:
Tommy Nelson® is the children's division of Thomas Nelson. As a leading provider of Christian content, Tommy Nelson publishes a wide variety of high-quality, enjoyable products that are consistent with the teachings found in the Bible. Tommy Nelson's award-winning products are designed to expand children's imaginations and nurture their faith while inspiring them to develop a personal relationship with Jesus. For more information, visit www.tommynelson.com.
Media contact: Natividad Lewis, Publicist, 931.698.9620 natividad.lewis@harpercollins.com
PRESS KIT: https://we.tl/t-vQ13CFlvfj (link expires Nov. 2)