Lon Allison battles cancer, spreads Billy
Graham's message in new paperback
At One-Year Anniversary of Billy Graham's Death, Lon Allison to Speak at Pastor's Conference
Paperback version of Allison's acclaimed Billy Graham biography just released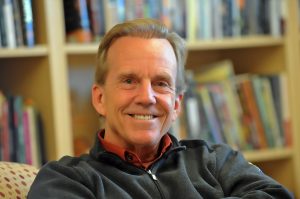 February 20, 2019 — Lon Allison's battle with liver cancer isn't slowing him down—especially when it comes to spreading the good news of the Gospel, and the message of his friend and predecessor, Billy Graham.
Last year Allison's biography Billy Graham: An Ordinary Man and His Extraordinary God (Paraclete Press) released just after Graham's death rocked the nation. The simple and powerful story of the life of America's pastor and the millions of lives he touched with the message of salvation through Jesus Christ, received the highest accolades by those closest to Graham, including his sister Jean Graham Ford and her husband Dr. Leighton Ford, who wrote the Foreword for the book.
What many of Allison's readers don't know is that during the final month of writing and research on his book, he was diagnosed with liver cancer. Allison reveals that news in the paperback version of hisbiography, just released in anticipation of the first anniversary of Graham's death.
The year of fighting cancer and all its complications has been intense for Allison and his family, and it's not over yet. Now Lon and his wife, Marie, are headed to the Billy Graham Training Center in the Smokey Mountains, where Lon will speak at their Pastor's Conference. Allison says, "We'll also see Leighton Ford, my mentor. I'm chairman of his Board and we have just set a new expanding vision for the impact of that ministry long after his life and mine. It's exciting."
Contact: To interview Lon Allison, contact Rachel McKendree at rachelm@paracletepress.com or 800-451-5006 ext 301