Ligonier Ministries releases State of Theology survey
Evangelicals deeply confused about core Christian beliefs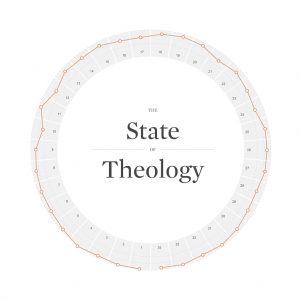 A major new survey released today reveals that evangelicals are confused about some core doctrines of the Christian faith.
Ligonier Ministries' 2018 State of Theology survey was conducted by LifeWay Research, which interviewed a representative sample of 3,000 Americans. The full survey results are available online at TheStateOfTheology.com.
Evangelicals
A majority of evangelicals said (1) that most people are basically good, (2) that God accepts the worship of all religions, and (3) that Jesus was the first and greatest being created by God the Father. However, all these beliefs are contrary to the historic Christian faith.
Some 52 percent of evangelicals agreed that everyone sins a little, but most people are good by nature. This contrasts with the Bible's teaching that human nature is fundamentally sinful (Rom. 3:10).
A majority of evangelicals (51 percent) agreed that God accepts the worship of all religions, including Christianity, Judaism, and Islam. However, Jesus insisted that access to God is only possible through faith in Him (John 14:6). (The proportion of those who agree is an increase from the 2016 survey, when 48 percent of evangelicals agreed.)
Almost all evangelicals (97 percent) agreed that there is one true God in three persons: God the Father, God the Son, and God the Holy Spirit. But more than three-fourths (78 percent) also said that Jesus is the first and greatest being created by God. The idea that Jesus was the first and greatest being created by the Father is contradicted by the Bible (John 1:1) and has been rejected by the church down through the centuries.
More positively, 91 percent of evangelicals affirmed that people are justified by faith alone in Jesus Christ alone.
U.S. adults
Overall, U.S. adults appear to have a superficial attachment to well-known Christian beliefs. For example, a majority agreed that Jesus died on the cross for sin and that He rose from the dead. However, they rejected the Bible's teaching on (1) the gravity of man's sin, (2) the importance of the church's gathering together for worship, and (3) the Holy Spirit.
More than two-thirds (69 percent) of Americans disagreed that the smallest sin deserves eternal damnation.
A majority of U.S. adults (58 percent) said that worshiping alone or with one's family is a valid replacement for regularly attending church.
A majority of U.S. adults (59 percent) say that the Holy Spirit is a force, not a personal being.
Other revealing results from the survey, covering ethical issues and age variations, will be released separately at later dates.
Chris Larson, president and CEO of Ligonier Ministries, said:
"The State of Theology survey highlights the urgent need for courageous ministry that faithfully teaches the historic Christian faith. It's never been popular to talk about mankind's sinfulness or the exclusive claims of Jesus Christ, but at a time when a darkened world needs the light of the gospel, it's disheartening to see many within the evangelical church confused about what the Bible teaches. We hope this survey provides local churches with a little more insight into what people in our neighborhoods and in our pews actually believe."
Dr. Stephen Nichols, chief academic officer of Ligonier and president of Reformation Bible College, said:
"These results are a serious cause for concern. It is the depth of man's sin that led Jesus to die on the cross. How, then, can a majority of evangelicals say most people are good by nature? Down through history, Christians have proclaimed that Jesus is truly God, not some sort of created being. The evangelical world is in great danger of slipping into irrelevance when it casually forgets the Bible's doctrine."
LifeWay Research interviewed a demographically balanced online panel of American adults and received 3,002 completed responses. The survey was carried out from April 24 to May 4, 2018.
Ligonier's previous State of Theology surveys took place in 2014 and 2016. More information can be found at TheStateOfTheology.com.
Evangelicals were defined by LifeWay Research as people who strongly agreed with the following four statements:
The Bible is the highest authority for what I believe.
It is very important for me personally to encourage non-Christians to trust Jesus Christ as their Savior.
Jesus Christ's death on the cross is the only sacrifice that could remove the penalty of my sin.
Only those who trust in Jesus Christ alone as their Savior receive God's free gift of eternal salvation.
About Ligonier Ministries
Ligonier Ministries exists to proclaim, teach, and defend the holiness of God in all its fullness to as many people as possible. To that end, Ligonier's outreach today is manifold and worldwide. Founded by Dr. R.C. Sproul in 1971, teaching fellows now continue and help lead Ligonier's work of discipleship that Dr. Sproul began more than forty years ago. These teaching fellows are Drs. Sinclair B. Ferguson, W. Robert Godfrey, Steven J. Lawson, R. Albert Mohler Jr., Stephen J. Nichols, Burk Parsons, and Derek W.H. Thomas. Ligonier publishes Renewing Your Mind broadcasts, the Reformation Study Bible, Tabletalk magazine, books through the Reformation Trust Publishing division, and hundreds of teaching series. 
The ministry also offers an undergraduate degree program through Reformation Bible College. In addition, Ligonier hosts national and regional conferences, provides an online learning community through Ligonier Connect, answers biblical and theological questions through Ask Ligonier, streams twenty-four-hour Christian Internet radio through RefNet, pursues numerous translation efforts in other countries, and makes available thousands of unique educational resources online at Ligonier.org.
Contact: Deborah Finnamore | Publicity Manager | 407-333-4244 x1158 | definnamore@ligonier.org