LifeWay Global and B&H Español win Publisher
of the Year, eight other awards at Expolit's SEPA
Miami, Fla. (August 17, 2018)–LifeWay Global and its trade publishing division B&H Español were named Publisher of the Year, at the Spanish Evangelical Publishers Association (SEPA) Awards Banquet, held August 8 in Miami, Fla.. LifeWay also won eight additional awards for sales milestones and bestselling books at the SEPA banquet, which took place at Expolit.
The SEPA Awards recognize the highest quality and excellence in the publication, sale and marketing of Christian literature in Spanish. The awards are presented annually during Expolit, the largest annual Christian Spanish literature and music convention in the world. This was the third time that LifeWay was named Publisher of the Year.
"It has been an exciting year to see what we at B&H and LifeWay can do to serve God's people through trustworthy resources," said Craig Featherstone, Publisher and Director of LifeWay Global. "We are so thankful for our amazing partners in ministry we have at SEPA and Expolit. We look forward to continue providing Spanish speakers Bible and Christian resources that will transform lives and equip and strengthen the Church."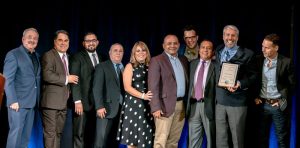 LifeWay also announced the launch of its "Programa de Biblias de Referencia" (Bible Reference Program) to key distributors from Latin America. According to Featherstone, the distributors responded with great enthusiasm about the program's ability to easily choose the "ideal Bible for the end consumer."
LifeWay also hosted the second annual "Conferencia Crece" (Grow Conference) in conjunction with Coalición por el evangelio (The Gospel Coalition in Spanish), which drew over 300 pastors and leaders. Crece provided attendees with eight hours of training on the theme "a church that prospers." Speakers included Miguel Nuñez, Justin Burkholder, Otto Sanchez and more.
Awards won by LifeWay/B&H:
General award categories:
Editorial del año / Publisher of the Year: Broadman & Holman
Mejor portada y diseño interior de Biblia / Best cover and interior design of a Bible: Biblia de Estudio para Mujeres
Mejor presencia en las redes sociales / Best social media presence: Broadman & Holman
Bestselling book awards:
Liderazgo / Leadership:  Delante de Dios y de parte de Dios by Sugel Michelén
Libro Vida cristiana / Christian living: Textos fuera de contexto by Jairo E. Namnún y Steven Morales
Libro de regalo / Gift: El plan de batalla para la oración
Biblia / Bible: Letra Súper Gigante con referencias RVR 1960
Sales Milestones: Gallery of Honor
Platinum (more than 500,000 sold): Biblia del pescador
Diamond (more than 1 million sold): Nuevo Testamento Hay vida en Jesús
B&H Publishing Group, an imprint of LifeWay Christian Resources, is a team of mission minded people with a passion for taking God's Word to the world. Because we believe Every Word Matters® we seek to provide intentional, Bible-centered content that positively impacts the hearts and minds of people, inspiring them to build a lifelong relationship with Jesus Christ. Among our print and digital releases for the trade, church, and academic markets, titles include The New York Times No. 1 bestsellers "The Love Dare" and "The Vow," No. 1 CBA bestseller "I Am a Church Member" as well as the newly-revised Christian Standard Bible (CSB) version.
Contact:  Jenaye White, Senior Publicist, jenaye.white@lifeway.com