Levi Lusko reminds children of God's love & faithfulness during uncertain times in new book
"Roar Like a Lion: 90 Devotions to a Courageous Faith" presents easy, fun daily engagement for kids to build confidence anchored in faith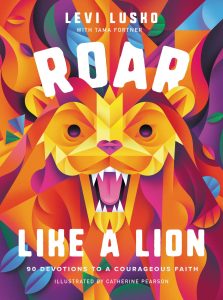 NASHVILLE, Tenn. (Sept. 1, 2021) – Pastor and bestselling author Levi Lusko is known for making tough topics accessible while drawing his readers toward a deeper, richer spiritual life. In his first children's devotional, Lusko tackles real issues kids face in a wild world of uncertainty. Roar Like a Lion: 90 Devotions to a Courageous Faith (ISBN: 9781400224364) debuts Sept. 14 wherever books are sold.
With eye-catching art, captivating stories, fascinating facts, Bible verses and prayers, and simple action steps, Roar Like a Lion helps kids approach both fun and tough times with strength, courage and certainty in God's faithfulness.
A pastor and parent of five children, ages 4 to 15 and one in Heaven, Lusko relates to modern challenges parents and kids face. Known for being extremely well-received by millennial and Gen X Christians, Lusko's ability to address real-life situations with compassion, grace, and biblical authenticity is showcased in each devotion.
"Hardships are inevitable – even at a tender young age," said Lusko. "I wrote this book to give children encouragement that they can be courageous—no matter what they are going through. I think parents, younger siblings, grandparents, and those looking for uplifting homeschool material will see this as a tremendous resource."
Covering topics such as peer pressure, bullying, loss, handling new challenges and past disappointments, purpose and faith, Roar Like a Lion encourages kids to "run toward the roar" as they face their fears, knowing that God is with them every step of the way. Roar Like a Lion is a fun, trustworthy read that can spark discussion on meaningful topics and get children in the habit of reading a biblically-based devotional.
Roar Like a Lion: 90 Devotions to a Courageous Faith (ISBN: 978-1400224364, ages 6-10) will be released on September 14, 2021 everywhere books are sold.
About the Author:
Levi Lusko is the founder and lead pastor of Fresh Life Church, located in Montana, Wyoming, Oregon, Utah and everywhere online. He is the bestselling author of Through the Eyes of a Lion, Swipe Right, and I Declare War. Levi also travels the world speaking about Jesus. He and his wife, Jennie, have one son, Lennox, and four daughters: Alivia, Daisy, Clover, and Lenya, who is in Heaven.
About Tommy Nelson:
Tommy Nelson® is the children's division of Thomas Nelson. As a leading provider of Christian content, Tommy Nelson publishes a wide variety of high-quality, enjoyable products that are consistent with the teachings found in the Bible. Tommy Nelson's award-winning products are designed to expand children's imaginations and nurture their faith while inspiring them to develop a personal relationship with Jesus. For more information, visit www.tommynelson.com.
Media contact: Natividad Lewis, Publicist, 931.698.9620, natividad.lewis@harpercollins.com
Press Kit Materials: https://we.tl/t-Lk2c0JG8zm