LeVar Burton to narrate Mister Rogers bio, The Good Neighbor, for Oasis Audio
Host of Reading Rainbow "thrilled" to voice first full-length biography of mentor Fred Rogers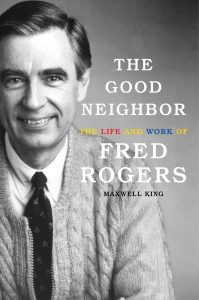 CAROL STREAM, IL, March 19, 2018 — Oasis Audio, a leading independent audiobook publisher, today announced that they have obtained the audio rights to Maxwell King's biography of Fred Rogers, The Good Neighbor. LeVar Burton — best known as host of Reading Rainbow and for his roles in Star Trek: The Next Generation and Roots — has signed on to narrate.
The Good Neighbor is the first full-length biography of Fred Rogers, the eponymous star of public television's Mister Rogers' Neighborhood. King draws from original interviews, oral histories and archival documents for an engaging story that traces the personal, professional and artistic life of a beloved American icon. 2018 marks the 50th anniversary of the first Mister Rogers' Neighborhood national broadcast.
"I am thrilled to be giving voice to The Good Neighbor," said Burton. "I am lucky to have been able to call Fred both a mentor and a friend, and hardly a day goes by that I am not acutely aware of his profound influence on so many — myself included."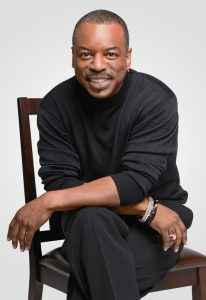 As host of PBS' Reading Rainbow, Burton's career crossed paths with Fred Rogers' many times. Most notably, Burton was a guest on Mister Rogers' Neighborhood in 1998 and the two participated in the 1996 White House Conference on Children's Television. In 2004, Burton received the Fred Rogers Award for excellence in children's educational media.
"Fred Rogers has impacted generations of children and parents, and there is no one better suited to be the voice of his story than LeVar Burton," said Oasis Audio President Steve Smith. "Maxwell King has done a brilliant job capturing Rogers' life in rich detail. He was a champion of compassion, equality and kindness — values that grow more relevant with every passing year. Between the depth of King's content and Burton's immense talent, we are excited to produce a truly special listening experience."
The Good Neighbor audiobook will be available September 11, releasing simultaneously with the print edition from Abrams Books.
About Oasis Audio
Oasis Audio began publishing inspirational and self-help audio titles in 1996. Over the years, the product selection expanded to include Bibles, non-fiction, fiction, children's and business audio titles. Today, Oasis Audio is the largest Independent Christian and inspirational audiobook publisher in the United States. To learn more, visit oasisaudio.com.
Media Contact:  Julie Smith, julie@oasisaudio.com  847-293-2994