Leslie H. Stobbe joins Elk Lake Publishing, Inc.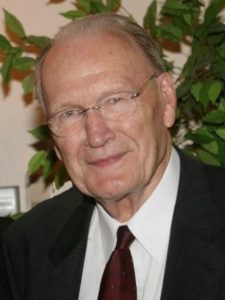 Elk Lake Publishing, Inc. is honored to announce Leslie H. Stobbe, former publisher, editor, and agent, has joined the company as an Associate Acquisitions Editor. Stobbe will attend writers conferences, interview authors, and serve as a book coach to those contracted.
Publisher Deb Haggerty said, "We could not be more pleased to welcome Les to the Elk Lake family. His wealth of knowledge and experience will be invaluable to us as we continue to publish positive books.
In his long and storied career, Leslie H. Stobbe has seen the growth of the Christian publishing industry from its inception. Over sixty years ago, Les was the founding editor of the Canadian weekly, Mennonite Observer. Five years later, he ran the Moody Bookstore and evaluated book manuscripts for Kenneth Taylor at Moody Press. Next came stints at Christian Life as editor of Christian Bookseller Magazine and associate editor of Christian Life Magazine.
In 1970, Les became editor-in-chief of Moody Press Books. Then he spent three years as vice-president of books and book clubs at Christian Herald. He became president of Here's Life Publishers, the book arm of Campus Crusade for Christ, for eleven years. Then, at Scripture Press, he became managing editor of the curriculum division and editor of both the adult curriculum and Christian Education Journal. When Scripture Press sold, Les went to the Evangelistic Association of New England as VP of Communications and Marketing. After writing online classes for Jerry Jenkins, Les served as Journalist in Residence at Gordon College in Wenham, MA.
As a freelance writer, Les wrote a Bible study for junior boys at Christian Service Brigade, wrote fourteen books and published hundreds of articles. In 1993, he became a literary agent. After twenty-five years, he sold to the Steve Laube Agency and became a writing coach. Not satisfied to retire in his 90s, he has now joined forces with Elk Lake Publishing. Over his career, Les has been a mentor and encourager to many of us in the industry.