Leah Darrow, former America's Next Top Model contestant, exposes the lies of the fashion industry and the real meaning of beauty in new book
International speaker and author, Darrow, encourages women to reclaim true and lasting beauty through God's love and His design for our lives in THE OTHER SIDE OF BEAUTY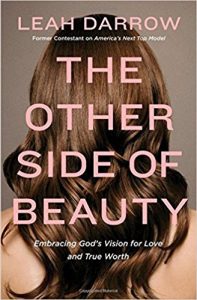 November 7, 2017 (Nashville, TN) – A former contestant on America's Next Top Model, Leah Darrow experienced what most young women experience: the pressure to be physically perfect. She presumed being thin and beautiful meant being happy too—and that if she reached a certain level of success, she would receive the kind of love and validation she'd always craved. She followed this train of thought all the way to New York City, where she hoped to make her mark as a model—but the road was painful, disillusioning, and ultimately destructive.
The Other Side of Beauty (Thomas Nelson, ISBN 978-0718090661), set to release on November 21, 2017, is a unique and compelling look into the world of manufactured beauty. As Leah faced the truth—that the modeling world left her cold, empty, objectified, and unfulfilled—she gave it up in favor of God's design for her.
As she dismantles the lies that keep women captive to ever-shifting definitions of secular beauty, she reminds them that their ultimate dream—to be validated and loved for who they are—can only be found in the arms of a merciful, unconditionally loving Savior. Darrow explores what true, everlasting beauty is—the kind that reflects God's perfect glory and the inherent dignity in his unique, lovingly crafted children.
In The Other Side of Beauty, Darrow explains the tragedy of the pursuit of beauty today, "We look to the world for answers, for help, to be validated, to be told we are good, beautiful, and worthy. But instead, we develop a sense of inadequacy that we believe can only be cured by a product, a look, or a lifestyle." While the desire for beauty isn't a bad thing, Darrow reminds us to find beauty in ways beyond the superficial, including:
Choosing true friends who challenge us and keep us accountable

Living a life of simplicity instead of excess

Being generous with our gifts, including our time

Embracing pain and difficulty with grace, reminding us that suffering can be beautiful
"If we dare to call ourselves a Christian," Darrow urges, "every detail of our life should be a reflection of this truth." The way we look and the way we dress are simply a shell, but true beauty is found in the pursuit of holiness. As Christians, we're called to live a beautiful life and reminding ourselves to offer our lives to Him allows us to embrace the beauty and love that is in perfect community with God.
Darrow reminds women that they are the guardians of beauty in today's world. As the targets of countless advertisements, she believes "it should be us who reclaim beauty and remind the world that we are more than a collection of parts, that beauty is beyond the physical, and our value, worth, and identity are not based on any ideas created by a marketing agency but on the word of the Almighty."
While Darrow's journey highlights the flaws in society's depiction of beauty, her book offers ways for women to live out the beauty they are called to embrace, including how to:
Appreciate your own uniqueness

Stop comparing yourself to others

Learn to forgive your own past mistakes

Protect yourself from outside triggers, including social media trends like 'fitspo'

Accept Christ's love and healing in your life
Instead of falling prey to the unrealistic expectations of our society, Darrow encourages women to be proactive. Faith requires action, and she reminds women that, "We cannot expect different results from our lives if we do nothing to change them. If we want a better life, then something has to change."
For more information, visit www.TheOtherSideofBeauty.com.
Leah Darrow, a former model and contestant on Cycle 3 of America's Next Top Model, has a driving passion to inspire women to do something beautiful with their lives. She is an international speaker, writer, and host of the Do Something Beautiful podcast. She is a wife to a US Army Green Beret and mom to three marvelous, crazy little kids, and together they live in St. Louis, Missouri. Follow Leah as she helps readers live truly beautiful lives that ultimately point to God on her website, Facebook, Twitter, and Instagram.
Thomas Nelson is one of the world's leading publishers and providers of Christian content, and has been offering readers quality inspirational product for more than 200 years. As part of HarperCollins Christian Publishing, Inc., the Nelson publishing group provides multiple formats of award-winning Bibles, books, gift books, cookbooks, curriculum and digital content, with distribution of its products in more than 100 countries. Thomas Nelson is headquartered in Nashville, TN. For additional information visit www.thomasnelson.com.
MEDIA CONTACT:  Morgan Canclini-Mitchell  morgan@twopr.com  817-944-1071