Kelsey Grimm of Duo Caleb + Kelsey releases debut book "Over It"
Releasing Sept. 21, book encourages women to know they are already enough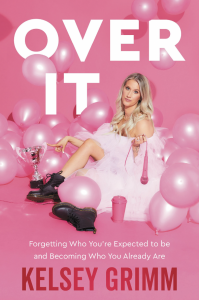 NASHVILLE, TN., Sept. 8, 2021 – Understanding the struggle of fighting insecurity and trying to live up to worldly expectations and pressure, beloved musician, YouTube sensation, wife, mother of three and author Kelsey Grimm is releasing her debut book "Over It: Forgetting Who You're Expected to be and Becoming Who You Already Are" on Sept. 21 from Worthy Books.
In "Over It," Grimm gets vulnerable and honest to share the message that women don't have to ascribe to what outside influences like TikTok, Instagram and even the Church say they need to be or what they need to look like because who they are is already enough. Grimm wants readers to know that she is just like them – wearing multiple hats trying to barely hold it all together.
"The message is loud and clear – today's culture tells us exactly what we're supposed to be: what our bodies should look like, where our beauty and worth lie, our level of success based on what we can offer the world," said Grimm. "I wanted to write this book to let women know they are not alone by being vulnerable because I am so over the suffocating pressure of performance and expectation that we place on ourselves."
"Over It" walks through topics covering the importance of not journeying through life alone, addressing the dangers of false expectations and understanding the significance in placing value in who we think we were created to be rather than who we are.
"Many of us have adopted a way to view God as someone wanting to catch us in trouble and not catch us with His love," said Grimm. "We have owned something that God never said about us. In fact, it's the opposite of what God has said about us. We've created entire traditions and customs in response to how we felt we were supposed to get into contact with God."
Grimm is part of the popular duo Caleb + Kelsey with her husband Caleb. Generating a loyal following, Caleb + Kelsey have over 500 million video views on Facebook, approaching 5 million followers, eclipsing 65 million YouTube views and several #1 selling albums.
For more information about "Over It: Forgetting Who You're Expected to be and Becoming Who You Already Are," visit https://www.thekelseygrimm.co/over-it-book.
About Kelsey Grimm
Kelsey Grimm is known by most, as a singer/artist alongside her husband, Caleb, in their duo Caleb+Kelsey. She also considers herself a stay-at-home mom, with the majority of her time spent raising their 3 beautiful babies in Nashville, TN. Kelsey is an enthusiastic, vibrant, adrenaline junkie who craves deep, meaningful relationships, below-the-surface conversation, and an occasional good glass of wine.
She's passionate about pursuing a life that's honest and bold – learning to see herself through the eyes of the Divine while encouraging others to do the same.