Keepsake cookbook, "Our Newlywed Kitchen," releases this May from Focus on the Family
A charming and practical gift idea for brides, just in time for wedding season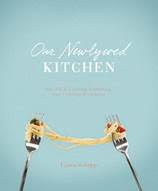 Carol Stream, Ill. (April 26, 2018) — Focus on the Family announces the upcoming release of Our Newlywed Kitchen: The Art of Cooking, Gathering, and Creating Traditions, a gift book by Laura Schupp. Available on May 8, 2018, Our Newlywed Kitchen is a fitting gift for any bride, bride-to-be, or newlywed couple just beginning to set up house together. Incorporating practical wisdom and thoughtful encouragement from an experienced homemaker, this coffee-table-sized book was written to inspire young couples to nurture strong marriages and families through the heart of the home: the kitchen.
Our Newlywed Kitchen aims to be a valued resource for newlyweds, featuring how-to information for kitchen organization, meal preparation, party planning, grocery shopping, and more. Gift-givers can also personalize the book by adding their own recipes, tips, memories, Scriptures, and prayers for the new couple in the spaces provided.
For more information about Our Newlywed Kitchen or any other Focus on the Family title, visit Focus on the Family's online store or Tyndale.com.
Our Newlywed Kitchen: The Art of Cooking, Gathering, and Creating Traditions
Focus on the Family**
ISBN: 978-1-58997-945-1 | Hardcover: $34.99 | 220 Pages
May 8, 2018
Focus on the Family, which reaches about 38 million people in 120 countries, is a global faith-based ministry that helps families thrive. Tyndale House Publishers is pleased to partner with Focus on the Family to help provide trusted resources for strengthening believers in their faith and sharing the gospel; building resilient marriages that reflect God's design; equipping parents to raise their children with a thriving faith; advocating for the preborn, orphaned, and life at every stage; and engaging the culture through a biblical worldview. Visit Focus at FocusontheFamily.com or on Facebook and Twitter.
Tyndale House Publishers, founded in 1962, is the world's largest privately held Christian publisher of books, Bibles, and digital media. Tyndale has published manyNew York Times bestsellers as well as The Living Bible and the Holy Bible, New Living Translation (NLT), the translation of choice for millions of people. The largest portion of its profit goes to the nonprofit Tyndale House Foundation, which makes grants to help meet the physical and spiritual needs of people around the world.
**Focus on the Family titles are published by Focus on the Family and distributed/marketed by Tyndale.