Kathie Lee Gifford announces book during Rosh Hashanah
The Rock, the Road, and the Rabbi Coming in March 2018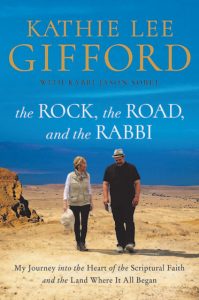 (Nashville, Tenn.) September 20,  2017—As a lifetime student of Scripture, Kathie Lee Gifford has been traveling to Israel since she was 17 years old. In a continuation of that love for this astounding land of faith, Kathie Lee will release The Rock, the Road, and the Rabbi (ISBN# 9780785215967) on March 6, 2018, with the W Publishing Group, an imprint of Thomas Nelson.
With a father who was Jewish, Kathie Lee has always felt what she calls "a deep resonance in my very being for the Jewish people and the Land of the Covenant—Israel." But it wasn't until Gifford started studying the original texts in Hebrew and Greek and actually hiking the land herself, along with teachers who taught the messianic rabbinical way, that she finally found what her soul had been longing for.
As Kathie Lee shares her transformative experiences, readers will also be introduced to her teachers on the journey — Ray Vander Laan, Rod Van Solkema, and Rabbi Jason Sobel, a Messianic Jewish Rabbi who has been opening hearts and minds around the world for years with his historical analysis and eye-opening revelations. The book will paint actual locations within the Holy Land with a personal narrative and pictures from Kathie Lee's journey. In addition, each chapter ends with Rabbi Jason taking the reader into a deeper understanding of Hebrew culture, language, and heritage.
"Israel is my favorite place in all the world because it's the land where it all started; it all happened here," said Kathie Lee. "I believe that something profound happens when one follows along the ancient paths in the actual places that Jesus taught, healed, lived, died, was resurrected and ascended into Heaven. I want to share my journey and ultimately, my hope is that readers will understand the difference between knowing about God and really knowing God."
"Audiences all over the world have benefitted from Kathie Lee's faith and wisdom for decades—not to mention her incredible wit and warmth," said Daisy Blackwell Hutton, vice president and publisher of the W Publishing Group. "Now Kathie is using those same gifts to help readers experience the Bible and the Holy Land in a way that goes far beyond a traditional 'Sunday school' approach to studying God's Word."
About Thomas Nelson:  Thomas Nelson is a world leading publisher and provider of Christian content and has been providing readers with quality inspirational product for more than 200 years. As part of HarperCollins Christian Publishing, Inc., the publishing group provides multiple formats of award-winning Bibles, books, gift books, cookbooks, curriculum and digital content, with distribution of its products in more than 100 countries. Thomas Nelson is headquartered in Nashville, TN. For additional information visit www.thomasnelson.com.
Contact: Becky Melvin
Tel: 615.902.1211  email: becky.melvin@harpercollins.com