Judges named for 2018 Top Shelf Book
Cover Award program
The industry is invited to nominate the year's best book covers until August 31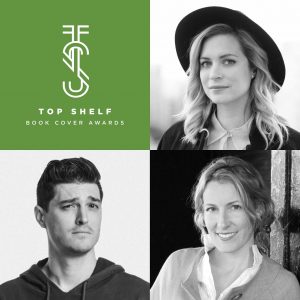 ECPA created the Top Shelf Book Cover Awards to honor the role of good design in Christian book publishing. Each year covers are judged by a new team of top design professionals, whose reputations are renown throughout the entire design industry, to choose the year's best book designs published by ECPA members.
"It is imperative the judges of Top Shelf have the insight needed to judge other's work in this space," states Torrey Sharp, Principal of Faceout Studio. "It's not easy being a judge. It takes a deep understanding of what design is meant to accomplish, the landscape of publishing and ultimate impartiality."
Sharp, who shared his connections and expertise to recruit the program's judges, continues:
"This year's judges are consummate creatives, highly successful in their own right and lovers of the craft. I'm really excited they have agreed to participate this year."
They are:  Gabrielle Wilson, Sarah Dubbeldam, and Nate Salciccioli. Each of their full bios and designs are listed on the program website.
"Recently I spotted a headline on a well-known lifestyle magazine that read, Beautiful Design Matters Now More Than Ever," said Stan Jantz, executive director of ECPA. "That same principle easily applies to books, which is why the Top Shelf Award program is so important for our industry. Book cover design matters more than ever because readers value what it says about the message that's inside."
Top Shelf winners are officially announced and presented with an award at ECPA's annual PubU on November 6-7. Winning covers are also featured in an Annual designed by Faceout Studio and printed by Color House Graphics.
Nominate a cover design until August 31.  More