Journalist and Popular QVC Host Debuts Hopeful Story
of Adoption & Infertility;
Kerstin Lindquist's 5 Months Apart
"Kerstin radiates light…a beautiful (inside and out) woman of God who personifies joy, positivity, love, and strength. From the moment we met, we connected instantly on family, motherhood, work, and most of all, Jesus. Her story is a powerful testament to the fact that no matter how hard life gets, faith and your belief in God can take you anywhere…."
—Mally Roncal, celebrity makeup artist & author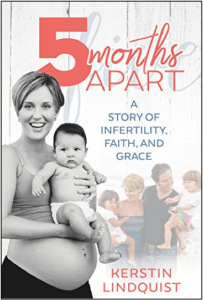 Emmy-winning journalist and popular QVC host, Kerstin Lindquist, may seem like she has it all—success, glamour, and a beautiful family. Yet, her journey to becoming what she most wanted to be—a mother—proved be especially arduous. In her debut book, 5 Months Apart, Lindquist tells a story that many women across the world have experienced, one that includes years of living with infertility and a difficult struggle to adopt—one that is no respecter of women.
Lindquist's story played out on the set of a local news program every morning, as her dreams of becoming a mother seemed to drift away year after year. When the hard truth of infertility brought her to her knees, she had no idea of the life that God had in store for her and her family. 5 Months Apart is more than a book on hardship; it is intended to help families come out of their society-imposed seclusion, ask for help on the journey, and believe in the ultimate happy ending.
The Lindquists are now a beautiful family of five, including two girls—both conceived in the same month but born five months apart. In 5 Months Apart, Lindquist writes authentically from her heart, sharing not only all the struggles and hardships but also the faith that pulled her through. Released just in time for National Infertility Awareness Week, April 23-29, Lindquist 's biggest desire is that 5 Months Apart will encourage everyone who has ever trudged the same weary path she once did.
Kerstin Lindquist is a survivor of infertility and a toilsome adoption, as well as an Emmy Award-winning broadcast news journalist and host at the leading home shopping channel. The confessional nature of her writing and speaking and the intensely personal stories she shares have endeared her to multiple generations of women who have struggled with creating a family. Kerstin and her husband are raising their three little Christians in Pennsylvania. They spend their free time in warm climates—preferably with sand. Learn more at kerstinlindquist.com.
5 Months Apart by Kerstin Lindquist
Elk Lake Publishing, Inc.
ISBN13: 978-1-944430-96-2
April 11, 2017
240 pages, $19.99
Media Contact:  Jeane Wynn
Wynn-Wynn Media, LLC, P: 918-283-1834, F: 206-339-3606
jeane@wynnwynnmedia.com