John Onwuchekwa's "Prayer" wins
2018 TGC Book Award
Six Additional Crossway Titles Named Runners-Up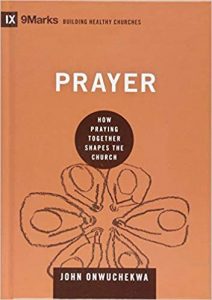 WHEATON, Ill. (December 12, 2018)—Crossway is pleased to announce that John Onwuchekwa's book Prayer: How Praying Together Shapes the Church (Crossway, August 2018) has won the 2018 TGC Book Award in the Ministry category.
Each year, the Gospel Coalition awards winners in nine categories, including Public Theology & Current Events, Children's, and Evangelism & Apologetics. The books selected are written and applied from a gospel-centered perspective, exemplify faithfulness to Scripture, encourage discernment in contemporary issues, and build up the church locally and globally.
In Prayer, part of the 9Marks: Building Healthy Churches series, Onwuchekwa emphasizes corporate prayer in the local church—not just as a tool in times of major crisis, but in all aspects of church life. He examines Scripture's teaching on prayer, the early church's example of prayer, and practical advice for individuals and churches looking to prioritize prayer.
"We—by which I mean we as Christians and church members together—should pray bigger and better and more biblical prayers," writes Onwuchekwa. "In a sentence, that's the goal of this book: learning how to pray better and more as churches. Just as our private prayer lives can be improved by God's grace, so too can our corporate prayer lives."
Available in both hardcover and ebook formats, Prayer has received commendations from Mark Dever (pastor of Capitol Hill Baptist Church), Thabiti Anyabwile (pastor of Anacostia River Church), Trillia Newbell (author of Enjoy and Fear and Faith), and many others.
Onwuchekwa also serves as the pastor of Cornerstone Church in Atlanta, Georgia. He was a contributor to 15 Things Seminary Couldn't Teach Me (Crossway, March 2018).
Six additional Crossway titles were named runners-up in their respective categories:
Remember Death by Matthew McCullough (Christian Living)
Echoes of Exodus by Andrew Wilson and Alastair J. Roberts (Popular Theology)
Expository Exultation by John Piper (Ministry)
Lewis on the Christian Life by Joe Rigney (History & Biography)
Can We Trust the Gospels? by Peter J. Williams (Evangelism & Apologetics)
Therefore I Have Hope by Cameron Cole (First-Time Author)
Justin Taylor, Crossway's publisher for books, writes, "Given our admiration for and resonance with the theological vision for ministry embodied by TGC, we always find these awards especially meaningful. We pray that the Lord would use these recognitions to encourage more readers to take up these books and to let them shape life and ministry."
John Onwuchekwa (MA, Dallas Theological Seminary) serves as pastor of Cornerstone Church in Atlanta, Georgia.
About Crossway:  Founded in 1938, Crossway is a not-for-profit global Christian publishing ministry that publishes gospel-centered, Bible-centered content, to honor our Savior and serve his Church. Crossway seeks to help people understand the all-encompassing implications of the gospel and the truth of God's Word—for all of life, for all eternity, and for the glory of God alone. Crossway is the global publisher of the ESV® (English Standard Version®) Bible, more than 1,000 Christian books, and an extensive list of gospel literature. For additional information, visit crossway.org.
Contact: Lauren Harvey, lharvey@crossway.org, (630) 682-4300, ext. 6031, crossway.org