Jesus Calling releases newest devotional, "365 Devotions with Real-Life Stories"
Jesus Calling: 365 Devotions with Real-Life Stories Includes More than 100 Pages of Stories from Readers About Addiction, Depression, Tragedy, Loss, Survival and…Hope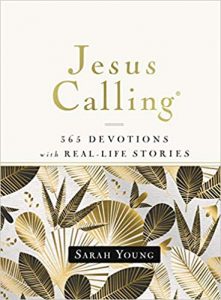 (Nashville, Tenn.) May 19, 2020—The Jesus Calling brand has touched more than 30 million lives since it was published in 2004. Although it is impossible to know the exact reach and impact of author Sarah Young's writing, in her newest devotional, Jesus Calling: 365 Devotions with Real-Life Stories (June 2), includes true, heartfelt stories from Jesus Calling readers. These individuals share their experiences going through uncertain, sometimes dark times and what the devotional has meant as they find peace and understand the Lord.
Young's newest book includes personal stories on her health, living abroad, becoming a Christian, and more. There are more than 100 pages of stories from readers like:
Donna Barrett – On a mission trip to Nicaragua, Barrett and her roommate enjoyed reading devotionals, and they shared a copy of Jesus Calling during the trip. When Barrett's roommate went missing and a search team looked for her, Barrett relied on the page in Jesus Calling from April 12, "Trusting in Me is a moment-by-moment choice…Choose to trust Me in all circumstances." Later, Barrett's roommate was found brutally murdered. Barrett used Jesus Calling during her grief, finding healing from the terrible tragedy.
Lisa Delgado – Delgado endured domestic abuse throughout her childhood, surviving two attempts to commit suicide at 14 and 15 years old. She was abused again during her 28-year marriage. A friend gave her a copy of Jesus Calling and it stayed on her nightstand for a few weeks. During a moment when she thought she had no way out, she went into her bedroom and planned to kill herself. As she reached for her husband's gun, she opened Jesus Calling to August 31 and read, "Your fragility is not a punishment." She broke down, cried, and had her first real conversation with God. Jesus Calling saved her life, and she has given countless copies to others who need it.
Steve and Donna Rozenburg – The Rozenburgs have three children, and all three have had terrible struggles with substance abuse. When their youngest daughter, Shannon, ran away and went missing after her third experience in rehab, the Rozenburgs could not hold it together any longer. They questioned themselves and why God would let that happen to them. They turned to their pastor, who gave them a copy of Jesus Calling, and they made it a part of their daily routine. They were able to find healing and a deeper faith in God during their most fearful times. In jail, Shannon was given a copy of Jesus Always from someone inside. The Rozenburgs felt God provided a way for Shannon to know Him through Sarah Young's devotional writings.
Dorothy Ruelas – After nearly 30 years working in clinical research, Ruelas served God by taking His love to inmates on Texas' death row. She shares the stories of four inmates who each read Jesus Calling before their execution dates and the relevant devotions and Scriptures on each of those days.
Gini Schmidt – As a flight attendant for American for 45 years, each flight to Gini was a "mission field opportunity." After hearing about Jesus Calling from her daughter, she put three or four copies in her purse for each three-day trip. She shares stories from when she gave Jesus Calling as a gift to  passengers, including a couple facing a diagnosis of terminal cancer; a woman who was grieving the sudden loss of her grandson to suicide; and a woman who was scheduled to speak at a convention for survivors of military suicides. In the book, Gini said, "there are no coincidences."
The above individuals are available for interviews. Contact Stefanie.Schroeder@harpercollins.com with requests for interviews, review copies, excerpts and more.
Thomas Nelson is a world leading publisher and provider of Christian content and has been providing readers with quality inspirational product for more than 200 years. As part of HarperCollins Christian Publishing, Inc., the publishing group provides multiples formats of award-winning Bibles, books, gift books, curriculum and digital content, with distribution of its products in more than 100 countries. Thomas Nelson is headquartered in Nashville, Tenn. For additional information visit www.thomasnelson.com