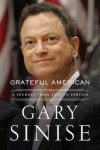 Actor and author Gary Sinise on Jesus Calling podcast
For nearly forty years, Gary Sinise has stood as an advocate of America's service members. His portrayal of Lt. Dan Taylor in the landmark film Forrest Gump formed an enduring connection with servicemen and women throughout the military community. Gary Sinise joins Jesus Calling podcast to share the story of how he found his way to becoming an actor and why helping those on the front lines, who defend and protect our country, is so important. His book, "Grateful American: A Journey from Self to Service" is available from Thomas Nelson.
More…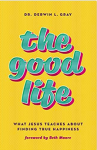 Former NFL player and author Dr. Derwin Gray discusses true happiness on podcast
Dr. Derwin Gray grew up in a home with poverty, substance abuse and violence and found football to be a way he could escape. Drafted into the NFL, he thought he was living the dream — until he realized at the peak of his dreams was emptiness.  Dr. Gray recently joined the Jesus Calling podcast to share how life changed for him when he committed to serving others. Gray's book, "The Good Life: What Jesus Teaches about Finding True Happiness" is available from Lifeway/B&H Publishing.
More…