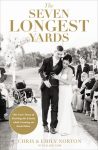 Chris & Emily Norton's miraculous story of defying the impossible featured on podcast
Quadriplegics simply do not walk again – yet millions watched as Chris Norton defied incredible odds and took step by impossible step across his graduation stage. With his fiancée Emily by his side, those unbelievable steps became the start of an extraordinary journey for them both. Now husband and wife, Chris & Emily Norton recently joined Jesus Calling podcast to share their miraculous story. The Nortons' book "The Seven Longest Yards: Our Love Story of Pushing the Limits while Leaning on Each Other" is available from Zondervan.
More…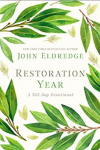 John & Stasi Eldredge join Jesus Calling Podcast 
Authors and founders of Ransomed Heart Ministries, John & Stasi Eldredge join the Jesus Calling podcast to share what it truly means to be restored. That moment when you bring the heart back into focus, you bring it back into the center right of the faith experience, which ultimately helps people find the healing ministry of Jesus amidst their brokenness. John's devotional book "Restoration Year: A 365-Day Devotional" is available from Thomas Nelson.
More…