Enneagram coach Beth McCord joins Jesus Calling podcast
Beth McCord is passionate about helping others find meaningful relationships and a life of deep purpose using a tool called the Enneagram, a system of personality typing that describes the different ways people view the world and manage their emotions.  Beth shares how helpful it is to learn the motivations behind our actions and the actions of others, and when we do, we are better equipped to be kind to them — and to ourselves. McCord's Enneagram Collection gift books are available from Thomas Nelson.
More…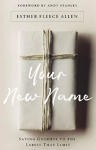 Author Esther Fleece Allen on podcast: knowing the power of words
Esther Fleece Allen joins Jesus Calling podcast to tell how she discovered how to shed the names and old labels she used to define her, and how her life has changed as she's discovered who God really says she is. Allen's book "Your New Name: Saying Goodbye to the Labels That Limit" is coming from Zondervan in January 2020.
More…