Author Rebecca McLaughlin on Jesus Calling Podcast
Author of "Confronting Christianity" Rebecca McLaughlin recently joined the Jesus Calling Podcast to share why it's important to encourage young people to dig into the Word of God. She believes that reading the Bible with her children and helping them work through their questions helps them make sense of their faith, and also teaches them a way to live that is steeped in compassion for others. McLaughlin's book, "Exploring the Earliest Gospel," is available from Moody Publishers.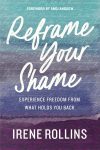 Pastors and authors Jimmy and Irene Rollins on Jesus Calling Podcast
Pastors Jimmy and Irene Rollins recently joined the Jesus Calling Podcast to share how as they dreamed of building a diverse congregation, the stress of being leaders of a growing church began to negatively impact them both, and Irene took to coping with alcohol. They share how together, they faced her addiction and the shared problems that made it come to a head. Irene's book, "Reframe Your Shame," and Jimmy's book, "Love Outside the Lines," are available from Thomas Nelson.