Jesus Calling: Stories Of Faith TV Show to premiere Season 2 on Circle Network May 18
Publisher Thomas Nelson announced today that Jesus Calling by Sarah Young, the bestselling devotional brand that has sold more than 30 million units, will premiere the second season of its inspirational TV show, Jesus Calling: Stories of Faith, on May 18 at 8:30 p.m. EST on Circle Network.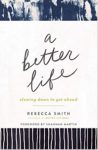 Rebecca Smith on Jesus Calling Podcast: Loving people out of their trauma
Founder of Better Life Bags Rebecca Smith recently joined the Jesus Calling Podcast to share how she thought God had made a mistake calling her to move to a little town in Michigan, thinking she'd never feel at home. But after Rebecca's bag company grew too big for her to handle by herself, she found that there was a large community of women who desperately needed employment and a place to connect with other women. Rebecca has experienced the call of God in her life, and now hopes to make that same difference for the people they help by meeting them in their pain and needs. Smith's book, "A Better Life," is available from Zondervan.
More…