Tara Royer Steele featured on Jesus Calling Podcast about moving on and starting anew
Pie shop owner Tara Royer Steele recently joined the Jesus Calling Podcast to share how she grew up in a tough family business, and her longing for attention led her into an abusive marriage. After feeling God pushing her towards something better, and assuring her that He would be enough for her, Tara found the courage to start over, ultimately leading to her dream life where she creates a haven for people to connect over tables. Royer's devotional, "Eat. Pie. Love." is available from BroadStreet Publishing Group LLC.
More…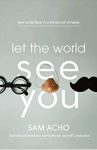 Sam Acho on being our authentic selves: Jesus Calling Podcast
NFL linebacker and author Sam Acho recently joined the Jesus Calling Podcast to share how he grew up in a faith-based home, forming a relationship with God early on. But as he got more integrated in his career, Sam began to separate from his foundational values, and he suffered an identity crisis—looking happy on the outside, but not feeling it on the inside. It wasn't until he went through a reckoning of sorts that he was able to accept a truth from God that Sam was worth getting to know, and when he started placing value on things that mattered, his life started to turn around. Acho's book, "Let The World See You" is available from Thomas Nelson.
More…