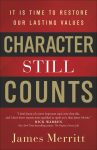 Jesus Calling Podcast recent author features
Dr. James Merritt, pastor of Cross Pointe Church in Atlanta, shares how we can cultivate strong character, and why standing for what we believe in holds a greater reward than getting approval from someone else. Merritt's book, "Character Still Counts," is available from Harvest House Publishers.
Carlos Whittaker built a successful and passion-filled career as a worship leader, so when he felt God's nudge to go in a different direction, he ignored it. It wasn't until Carlos' wife told him that she trusted God enough to leap into the unknown that Carlos decided to take the plunge. Whittaker's new book, "Enter Wild," is available from WaterBrook.
Pastor Sheryl Brady of Potter's House in Dallas, shares how during a dark season of loss, she didn't know if she still felt that way about Him, and didn't know how to lead with positivity when she didn't feel that He was good. Brady's book, "Don't Miss the Moment," is available from Thomas Nelson.
More…