Jesus Calling® podcast awarded international w3 Gold award for digital excellence
Winning Episode Features Baseball Great Darryl Strawberry and Oklahoma City Bombing Survivor Amy Downs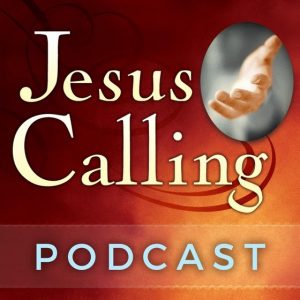 NASHVILLE, TENN. (October 17, 2021)  The Jesus Calling Podcast received an international Gold Award for Digital Excellence as a part of the 16th Annual w3 Awards selected by the Academy of Interactive and Visual Arts. The Jesus Calling Podcast, which has garnered more than 8 million downloads, was created as a result of the success of the bestselling daily devotional Jesus Callingand is produced by Four Eyes Media.
Episode 248 of the Jesus Calling Podcast, "Starting Over After Our 'Wake Up Call' Moments with Darryl Strawberry and Amy Downs," was honored with a Gold Award in the "General Series—Lifestyle" category. The w3 Awards honor outstanding websites, marketing, video, mobile, social and podcasts created by some of the best digital content creators across the industry. More than 3,000 entries were submitted worldwide to the Academy of Interactive and Visual Arts (www.w3award.com)
The Jesus Calling Podcast launched in 2016 and consistently ranks as one of the top Christian podcasts in the US and internationally. Each weekly podcast episode features two guests who share personal stories of faith. Guests include beloved entertainers, athletes and authors including Dolly Parton, Max Lucado, Reba McEntire, Christine Caine, Cathie Wood, Kristin Chenoweth and Tony Dungy. Beginning September 2021, the Jesus Calling Podcast will publish a weekly bonus episode featuring multiple guests who share thoughts on a single subject, such as "Coping with Loss."
Michael Aulisio, Vice President and Publisher of the Jesus Calling Brand, considers the w3 award a win for the entire Jesus Calling product line: "It is an honor to receive a w3 award for the Jesus Calling Podcast, which recognizes the exceptional content and production of the podcast and this particular episode focused on finding hope in spite of all odds. The Jesus Calling Podcast and Jesus Callingdevotional books continue to deliver spiritual encouragement to millions of lives."
Jesus Calling, a daily devotional authored by Sarah Young, has become one of the most successful devotionals of all time. The Jesus Calling family of books has sold more than 35 million units across more than 30 languages, and now includes children's devotionals, Bible storybooks, journals, and seasonal books. Jesus Listens (October 2021) is the latest devotional in the line featuring prayers written by Sarah Young from the reader's perspective to strengthen their relationship with Jesus. Readers also enjoy devotional content via the "Jesus Calling: Stories of Faith" television program (via Circle Network, reaching a monthly audience of nearly 150 million), the Jesus Calling print and digital quarterly magazine, and the Jesus Calling app (for Apple and Android). www.jesuscalling.com.
About Sarah Young: Sarah Young's devotional writings are personal reflections from her daily quiet time of Bible reading, praying, and writing in prayer journals. With sales of more than 35 million books worldwide, Jesus Calling has appeared on all major bestseller lists. Sarah's writings include Jesus Calling®, Jesus Listens, Jesus Today®, Jesus Always, Jesus Lives™, Dear Jesus, Jesus Calling® for Little Ones, Jesus Calling® Bible Storybook, Jesus Calling®: 365 Devotions for Kids, and Peace in His Presence – each encouraging readers in their journey toward intimacy with Christ. Sarah and her husband were missionaries in Japan and Australia for many years. They currently live in the United States.
About Thomas Nelson: Thomas Nelson is a world leading publisher and provider of Christian content and has been providing readers with quality inspirational product for more than 200 years. As part of HarperCollins Christian Publishing, Inc., the publishing group provides multiple formats of award-winning Bibles, books, gift books, cookbooks, curriculum and digital content, with distribution of its products in more than 100 countries. Thomas Nelson, is headquartered in Nashville, TN. www.thomasnelson.com
Contact: Robin Richardson, Senior Marketing Director, 615-902-1886, robin.richardson@harpercollins.com