Jennie Allen's "Get Out of Your Head" hits five
national best sellers lists including #2
on New York Times
Colorado Springs, Colorado (February 10, 2020)—IF:Gathering founder and visionary Jennie Allen has made her debut on the New York Times Best Sellers list, coming in at #2 in the Advice, How-To & Miscellaneous category following the release of her latest book, Get Out of Your Head: Stopping the Spiral of Toxic Thoughts (January 28, 2020, WaterBrook). The book also earned #9 on the USA Today Best-Selling Books List, #3 on Wall Street Journal's Bestselling Books list in the nonfiction category, #8 on Publishers Weekly's Top 10 Overall Bestsellers list, and #8 on ECPA's Non-Fiction Bestsellers list.
Get Out of your Head is a powerful read for anyone who has found himself or herself trapped in the spiral of toxic thinking. On behalf of readers and herself—she too has been caught in the spiral—Allen wages war on the negative thoughts that take our minds captive by equipping us all with the one thought that can change everything: I have a choice.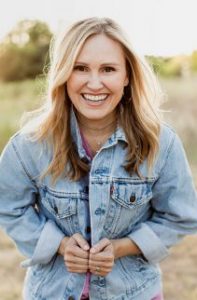 For more information, visit www.waterbrookmultnomah.com.
ABOUT THE AUTHOR:  
JENNIE ALLEN is the founder and visionary behind IF:Gathering, an organization that equips women with gospel-centered resources, events, and community so they may learn more about who God is and disciple others. Through simulcast and live events, IF has reached more than one million women in nearly two hundred countries and has seven thousand women leading in-person gatherings around the world. She is also the host of the new "Made for This" podcast which has already exceeded 1.8 million downloads since its launch in July 2019. Allen has a master's degree in biblical studies from Dallas Theological Seminary.
Contacts:
Beverly Rykerd, VP, Director of Publicity, brykerd@penguinrandomhouse.com  (719) 268-1935
Chelsea Woodward, Publicist, cwoodward@penguinrandomhouse.com  (719) 268-1915