Jeff Crosby named new ECPA President and CEO
Current ECPA board chair and publisher of InterVarsity Press will assume position on August 1st
Media Contact: Dan Kok, vice-chair of the ECPA Board of Directors at dkok@crossway.org or (630) 682-4300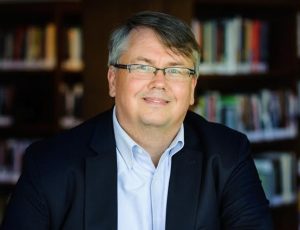 April 29, 2021 – Tempe, AZ – The Evangelical Christian Publishers Association (ECPA) Board of Directors has named InterVarsity Press Publisher and current ECPA Board Chair Jeff Crosby as President/CEO of the Association.
He succeeds current President/CEO Stan Jantz, who announced his resignation at the end of 2020. Jantz has led ECPA since 2015.
Crosby will continue in his role as board chair through ECPA's Virtual Leadership Summit, which will conclude with the annual Member Meeting and Town Hall on May 6. He will plan to take the helm of ECPA on August 1, ahead of the industry's C-Suite Symposium in September and the fall events of ECPA PubU, the Art of Writing seminars, and The Christy Award® celebration.
"Jeff is a proven, effective leader who has a firm understanding of the Christian publishing landscape," expressed Dan Kok, SVP of Operations at Crossway, who led the board's search effort as vice chair.
"His vision, drive, and performance focus, combined with his commitment to serving the best long-term interests of ECPA, will enable him to keep the momentum going that Stan created as ECPA President/CEO. Jeff is a great listener, servant, and encourager, who values relationships.  Above all, his relationship with Jesus Christ shines through in everything he does.  On behalf of the Search Committee and the ECPA Board of Directors, we are thrilled that Jeff will be our next President/CEO!"
"ECPA is an organization that has had a profound impact on my leadership throughout 38 years of work with Christian literature," Crosby said. "I have discerned a distinct sense of calling throughout this process, and am grateful for the confidence the ECPA Board of Directors has placed in me to lead this important association, in partnership with its remarkable staff and board. I look forward to serving our membership in the years to come as we seek to meet our industry's challenges and seize opportunities to make Christian literature known throughout the world."
Crosby joined InterVarsity Press in January of 1998, serving for 18 years as sales and marketing director and associate publisher prior to being named publisher in the spring of 2016.
"Working alongside the uncommonly committed and talented InterVarsity Press staff and with its authors has been a distinct privilege," says Crosby.  "There is no publishing house that has formed my understanding of the impact and importance of Christian publishing more than IVP. I leave the organization with an overwhelming sense of gratitude, and confidence that its mission to the university, the church and the world will grow stronger in the years ahead."
Jeff Crosby began his career in 1983 as owner and manager, with his wife, Cindy, of Logos Bookstore in Bloomington, Indiana. He later served as executive director of the Association of Logos Bookstores and as a vice president of sales at Ingram Book Company from 1995 to 1997. He and Cindy, an author and educator, have been married since 1983, and they have two adult children and six grandchildren. They reside in Glen Ellyn, Illinois.
###
The Evangelical Christian Publishers Association (ECPA) is an international non-profit trade organization comprised of member companies that are involved in the publishing and distribution of Christian content worldwide. Since 1974, ECPA has strengthened Christian publishing by building networking, information, and advocacy opportunities within the industry and throughout multiple channels so that its members can more effectively produce and deliver transformational Christian content. For more information, visit ECPA.org.